ASK a Brit abroad twenty years ago what he most missed about being away from home and British television was usually high on the list.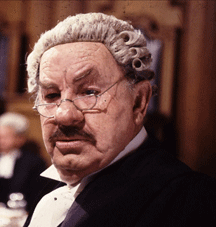 These days of course such gripes are largely a thing of the past as global connectivity has granted fans of quality British television an ever-growing menu of choices from which to indulge their habit – be it Netflix, Apple TV, Hulu or other pay services including UKTVEverywhere.com
But one of the longest-established – and still one the best, in our opinion – is Acorn TV, (www.acorn.tv) which streams some of the best British TV in North America, and provides a welcome alternative for viewers looking for highly entertaining international content that can't be found anywhere else.
A recent addition to the Acorn stable is the first three series of the iconic Rumpole of the Bailey, from prolific author John Mortimer and starring the inimitable Leo McKern as the famed QC. Other goodies include the first two series of Stephen Fry's uproarious BBC game show QI; the Rubin Museum's star-studded Talks About Nothing with Ken Burns and Rick Moody; and the first three series of one of the UK's most popular series Wild at Heart starring Stephen Tompkinson. Acorn TV also recently added the classic Emmy®-award winning miniseries Edward & Mrs Simpson starring Edward Fox, Cynthia Harris and Nigel Hawthorne and Cadfael starring Derek Jacobi.
At www.Acorn.TV and its popular Roku channel, Acorn TV is still exclusively streaming Guy Pearce in the new Australian noir Jack Irish: Dead Point, the newest season of the absorbing British detective series George Gently, starring Martin Shaw and a funny new British sitcom You, Me & Them starring Anthony Head and Lindsay Duncan.
Technology. It's a wonderful thing. Now get back to the couch….
–  Nick Stark