By Darren Darnborough
Ahhh, Christmas Day on the slopes… the perfect way to unwind after a year of crazy in LA. After taking to a much-needed ski break in Lake Tahoe, we of course ramped up the pace for New Years Eve in the polar opposite of nature – Las Vegas.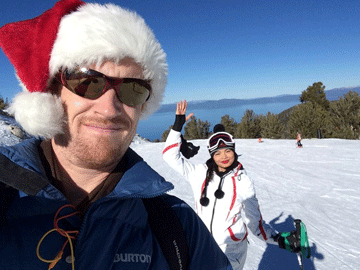 VIP Suite? Check. Incredible chef's tasting dinner at Sushi Roku? Check. Great seats at the Fleetwood Mac concert at MGM Garden Arena, screaming along to more hits than you remember knowing? Check. Hotel room-isolation due to food poisoning and over-indulgence as the NYE bells rang in? Check.
So, what I would have been doing when the clock struck twelve was a huge street party on the Las Vegas Boulevard with fireworks from all the major hotels, followed by bouncing around LV Strip superclubs Beachers Madhouse and Hakkasan, gambling my 2013 away, and pigging out on an epic new years day brunch at an unlimited buffet. Instead of clutching my tummy, getting acquainted with my duvet, and watching Regis and Kelly have a grand old time.
The next day did improve however, and we got some serious adrenaline back in the veins. For those that think Vegas is just about roulette and partying, think again – there's some adventure to be had too. We kicked off by driving muscle cars and supercars around Red Rock Canyon with World Class Driving. Over a few hours, I got behind the wheel of some souped up monsters, including a Shelby GT500 Mustang, a Corvette Z06, a Camaro ZL1 and a Jaguar XK-RS, following in convoy a wish list of other Ferraris, Lamborghinis and exotics, navigating the desert highways with excellent instructors at 50mph maximum speeds (honest, officer). You go in thinking "how much fun can driving cars really be?" and come out exhilarated and wanting more.
So what better place to head afterwards than Dig This, where we tore up the road in a different way, learning how to operate an excavator in a giant sandpit just off the Strip, even teaching you acrobatics and ball skills with these machines (seriously)! Well, after such a macho morning, it would have been rude not to check out Vegas' largest surplus of weapons at Battlefield Vegas. This supergun range transports you from your hotel in military grade Humvee, and unleashes you with expert tuition on any type of machine you want to fire, including the only mini-gun in Vegas. Back to boring old LA….
One of my first movies of the year was an advance screening of Jack Ryan: Shadow Recruit, and it was great to see friends and familiar Brit faces Gemma Chan, Karen David, Isobel Pravda and Hannah Taylor Gordon up there amongst the Hollywood blockbuster talent. I also caught a preview of Ashley Avis and Elizabeth TenHouten's fashion film (something of a new trend) in Beverly Hills, which sets a short fashion-based narrative to a thumping soundtrack.
The big January event on everyone's lips though was The Golden Globes, where Matthew McConaughey and Jared Leto took home well deserved awards for The Dallas Buyers Club. I attended the official NBC Viewing Party, which took place right above the ballroom of the awards, meaning straight after a lavish dinner and cocktails rooftop at the Beverly Hilton, we were joined by such stars as McConaughey, Ron Howard, Sofia Vergara and more to party through the night, with major A-listers also stopping by the Gold Meets Golden area to mingle with Olympiads prepping for Sochi. All of the major parties take place in the Beverly Hilton that night, so we sashayed through the Weinstein Co event, swept up in Lady Gaga's entourage, hit the dancefloor with Benedict Cumberbatch at InStyle, and finished up with dessert at the poolside HBO soiree.
I just had time to attend an ALS fundraiser at the Pasadena Playhouse, where celebrities got together cabaret style to raise awareness and money for the terrible Lou Gehrig's disease. A highlight was seeing Richard M. Sherman, composer of Mary Poppins perform live, just after I'd seen the film featuring his work "Saving Mr Banks." It's times like this when you really feel the Hollywood magic, before setting off to Hollywood on tour: The Sundance Film Festival.
As usual, there was a jam-packed week of excellent events, fantastic food and screenings in Park City Utah, with a little fresh powder ski-ing thrown in. Highlights on the event calendar was the Hollywood Meets Silicon Valley conference, talking about the convergence of film and tech and the Chase Sapphire Lounge, which hosted amongst others parties for Breaking Bad's Aaron Paul, and Eddie Bauer's branded space fixing us up with awesome ski wear. Big Air Studios threw a fun time at Sunset Strip satellite Rock & Reilly's, and we bounced from Creative District and Bright Ideas magazine's afternoon soiree to Dive Visual's event, through Vegas pop-up Tao and a Game Of Thrones themed do, ending up at a huge hilltop mansion celebrating Robert Redford produced "Drunktown's Finest" with one of its stars Elizabeth Frances. Another highlight was the intimate and well-produced Sunday Dinner event, featuring excellent food and a curated guestlist which included actor and activist Adrian Grenier, who we joined again at my favourite Sundance event Chefdance, along with Blonde Abroad blogger Kierstin Rich, where the crème de la crème of film get together to indulge on a specially prepared celebrity chef's menu, hosted by the classic Sundance couple Kenny Griswold and Mimi Kim.
My vocal chords barely intact, I was honored to participate in reading the winning entry of "Table Read My Screenplay", a script competition that takes place each year, with a lucky winner having their work read by professional actors at the Waldorf Astoria during Sundance. Walking in past uber film boss Harvey Weinstein briefing his team surely was a good sign for the screenwriter. A little ski time in some very clear and beautiful runs at Deer Valley, and we set off back to LA, in time to enjoy the Superbowl game in traditional American style with beer, burgers and hot dogs at a party thrown by tech firecracker Nanxi Liu, owner of Enplug, a new interactive video billboard that's taking the scene by storm.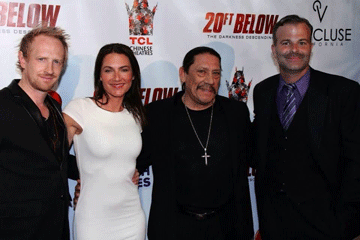 LA has great opportunities for continually learning, and the incubator that helped launch Nanxi's company, Be Great Partners, put on a series of speaker events. We attended one such session with Brit VIP lifestyle concierge Steve Sims, learning all about his company Bluefish and what makes them successful, including his charitable arm BlueCause, which offers exclusive Hollywood experiences that money can't buy (except it can!) with 100% going to charity. The week continued with some further British influence, as we were invited to opening night of Noel Coward's Brief Encounter at The Wallis Annenberg Theater, an excellently produced musical play starring Jim Sturgeon whose performance kept you captivated in the story from the very start. We attended a showcase by Irish singer Nadia Forde at Sofitel, a special screening of Oscar-contender Philomena (Q&A with Steve Coogan and the real Philomena!) ending with Brit actor and singer Emrhys Cooper's birthday party.
Oscar week was just as hectic, where it seems the whole town stops still to celebrate and indulge film (at least that's their excuse). I enjoyed events by FilmHouse AG and The Weinstein's and laughed my ass off at the Brits In LA annual Toscars event, where local Brits parody the Oscars, this year sponsored by Jaguar. The ceremony at the famous Egyptian theater attracted fun-loving stars including Fringe's Joshua Jackson, Ron Jeremy and Australian actress-to-watch Gemma Sykes and superstar DJ Paul Oakenfold, and was hosted by Alex Newell of Glee fame, where the parody of Her (Terminate Her) picked up the Golden Fist award. Vanity Fair took care of us with the VFSocial Club at WeWork – a week long haven of panels, food, champagne and a twitter vending machine (yep, tweet for gifts!) By the time actual Oscar Sunday came, I skipped the party scene opting to watch the ceremony with a plate of ribs and good friends at Saddle Ranch (dressed in a tux nonetheless…. You gotta be ready.)
Shrove Tuesday, pancake day, or as the Americans call it, Fat Tuesday and Mardi Gras swung around and we indulged in some battered goodness at The Grove to the sounds of an authentic New Orleans band, ahead of my much anticipated film premiere for 20 Ft Below: The Darkness Descending. The film I co-produced and played the role of Ajax in, opposite Danny "Machete" Trejo received its premiere at the world-famous Chinese Theater on Hollywood Boulevard, with a packed after-party at new exclusive Sunset Strip celebrity hotspot Vaucluse. Guests enjoyed drinks sponsored by Six One Nine Vodka and Tequila Campo Azul amongst cast and crew, for the film that explores the underground homeless community lurking beneath the abandoned subway tunnels of New York.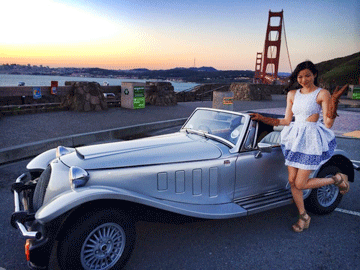 Feeling all rockstar from its success, we flew up to San Francisco the next day to pick up my summer ride – a classic Panther Kallista roadster, imported from the UK. We made great time in this classic convertible dream, riding down the beautiful PCH from the Golden Gate Bridge, through Santa Cruz, Big Sur and Santa Barbara just in time to end the month as Hollywood-style as you can: showing off the new wheels at a 50's style burger car hop, then meeting Michael Jackson's daughter whilst helping a friend move a sofa, and picnicking in the park with not one, but two of the upcoming Ninja Turtles… and yes, there was pizza.
Disclaimer: Travel made tremendous by Sushi Roku, World Class Driving, Dig This, Battlefield Vegas, Gold Meets Golden, The Wallis Annenberg Theater, The Toscars and Turkish Airlines who hosted us at their events and establishments.