Exclusive interview with author Nancy Bilyeau and a review of her third novel in the Joanna Stafford series
Rating: Four stars
Review by Gabrielle Pantera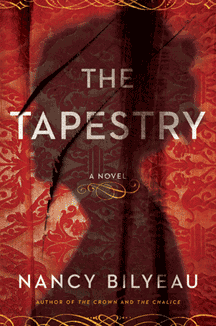 "My main character, Joanna Stafford, has felt nothing but fear and loathing for Henry VIII and Thomas Cromwell, his chief minister," says The Tapestry author Nancy Bilyeau. "I thought it would lead to a dramatic and suspenseful story if I propelled Joanna into the court of the king, forcing a confrontation. And the way I thought of to do that is she weaves tapestries…and Henry VIII was obsessed with collecting tapestries."
Bilyeau is masterful in creating details that move the narrative story forward and in creating real dilemmas for Joanna Stafford in this book. Bilyeau's words transport the reader back to the English court at a time when you had to be careful what you said or risk losing your head. The author Bilyeau tries to strike a balance between the politics the King Henry VIII's court and Joanna's personal life. For the third book, you don't have to read the first two books in the series, but it makes more sense if you do.
Joanna Stafford, a novice nun from a disbanded order, wove a brilliant tapestry for Anne of Cleves who gave the tapestry to her husband King Henry VIII. After seeing it Henry wants Joanna to weave another for him. A member of the Stafford family, Joanna is related to Henry and must go to court though she has no love of the place. It was Cromwell, working for the King, who destroyed the nun's order of which Joanna was a member. Joanna must carefully navigate the treacherous rivalries of Henry's inner circle. Will she risk her life for what she values?
Bilyeau likes to plan her books, to write an outline first, but that didn't happen with The Tapestry. "I planned an outline for the novel first," says Bilyeau. "But, as I was writing it, I thought about including a description of painter Hans Holbein the Younger in one passage. Then I decided to give him some words to speak. Then he was taking action and playing an important role. He kept growing and growing. It was the funniest thing, as if he had decided he wanted to be in the book. He ended up becoming one of my favorite characters."
Bilyeau keeps a library of books on Tudor England, of the politics, the personalities, the daily life. "For this particular novel, I had to dive deeper into tapestry production, the 16th century occult, life at court during the two very specific months of April and May 1540, and the lives of Catherine Howard, Thomas Culpepper and Walter Hungerford," says Bilyeau. "I don't look at documents in their original state, there are collections of them that can be read in books now. For serious research, I use the New York Public Library, Schwartzman Branch, on 42nd Street and Fifth Avenue."
Bilyeau wrote the first two novels in this series, The Crown and The Chalice, which won the RT Reviewers Award for Best Historical Mystery last year. The Crown placed on the short list of the Ellis Peters Historical Dagger Award of the Crime Writers Association in the UK.
As a magazine writer and executive editor of DuJour magazine, Bilyeau has interviewed Laura Bush and Dr. Phil, among others. "It's nothing like being a novelist," says Bilyeau. "I come up with ideas for nonfiction stories, and I edit the stories and manage the production of the magazine. We work in a small team, sitting together in a shared area. When I write fiction, I'm alone."
Bilyeau, who was born in Chicago and now lives in New York City, is currently working on a new novel not set in the Tudor period.
Nancy can be found on line at nancybilyeau.com or at twitter.com/Tudorscribe
The Tapestry: A Novel by Nancy Bilyeau. Hardcover, 400 pages, Publisher: Touchstone (March 24, 2015), Language: English. ISBN: 9781476756370 $ 26.99
[adrotate banner="87″]