Books: Naked, A Novel of Lady Godiva
Exclusive interview with Eliza Redgold and a review of her novel about Lady Godiva
Rating: 3 Stars
By Gabrielle Pantera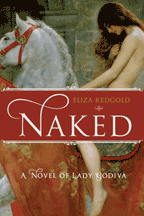 "In most of the Godiva stories, Leofric of Mercia is definitely the villain of the piece, ready to impose heavy taxes and to force his wife to carry out her daring ride," says Naked author Eliza Redgold.
"Yet by the end of his life, I discovered historical documents reveal Lord Leofric was a changed man. I became determined to clear Lord Leofric's name. I think I fell a little bit in love with him."
Naked is a historical romance that uses historical documents, myths, legends, paintings, poems and the writer's imagination with artistic license. The story is told from Godiva's point of view. The story starts slowly, building to poetic rhythm. At times it's like reading a poem. Redgold writes with a modern sensibility that keeps the reader in the story. Leofric is the hero of the story, but it is told from Lady Godiva's point of view.
The legend of Lady Godiva is based on a real person. With her long-flowing hair as her only shield she famously rode naked through the streets of Coventry. This novel traces events up to that fateful day and why she did what she did for love of her people. The villagers would starve if her husband did not lift the heavy taxes. He said he would do it if she would ride naked on horseback through the town. He never expected her to do it.
Redgold first wrote the story of Naked as a screenplay. "It always seemed to me a story that would make a fantastic movie," says Redgold. "It's got drama, battles, romance, treachery and of course the famous ride. I like to imagine who would play Godiva, Leofric and Edmund, the love triangle in the book." Redgold got the idea to write a Godiva story while writing an academic paper about the popularity of the word lady.
To research Lady Godiva, Redgold made a trip to Coventry, England, and wrote a travel article about it published in the newspaper The Australian. "Today the area surrounding Coventry is heavily industrialized and bears little resemblance to the largely rural land of Godiva's time, when it would have been interspersed with villages huddled around common pasture land," says Redgold. "It was difficult to find remnants of Godiva's life." Redgold visited the area where Godiva and Leofric are believed to be buried.
Redgold wrote part of Naked on a plane flight to Singapore. "I used to lecture there…great English ex-pat community," says Redgold. "Bits of dialogue from Naked kept running through my head, and so even though the lights were out and I was trying to sleep, I kept getting out my notebook and scribbling notes in the dark. After a couple of times doing this I realised a woman passenger was staring at me in amazement from across the aisle. 'Are you a writer?' she whispered. I nodded, but was too embarrassed to keep going."
Redgold loves riddles. "In Naked I included two Anglo-Saxon riddles, numbers 25 and 54 from the ancient Exeter Book of Riddles," says Redgold. "But, I couldn't translate them myself. The translations from Old English were provided by two English university academics who also run a great website called The Riddle Ages (theriddleages.wordpress.com). It's very funny and a bit bawdy. My husband's family live in Chagford, near Exeter and next time we go back I'll view the old Book of Riddles in person.
As both an academic in gender studies and a novelist, Redgold is passionate about the telling of tales of women. She has presented academic papers on women and romance and is a contributor to the forthcoming Encyclopedia of Romance Fiction. Her Romance your Senses series of contemporary romances is published by Harlequin (MIRA) Australia and Escape Publishing. Two of her historical romances set in the Victorian period are to be published by Harlequin Historical (London). A non-fiction book she co-wrote for teenage girls was short- listed for a prize in Australia. Naked is her first full-length fiction.
Eliza Redgold lives in Australia. She was born in Irvine, Scotland on Marymass Day.
Naked: A Novel of Lady Godiva by Eliza Redgold. Paperback: 240 pages, Publisher: St. Martin's Griffin (July 14, 2015), Language: English ISBN: 9781250066152 $14.99