Johny Pach from London who moved to LA five weeks ago to pursue a career as a TV host. Johnny was drafted to the Sunshine State by V Channel,  a TV network operating in Arcadia to launch his brand new show "Showbuzz" which gets aired across the SKY 671 V Channel network each week.
Was there a particular reason you chose LA?
The TV Network were based here, they paid my visa and offered me a big contract. It all started back in February, when I got flown out to host a big fashion show at Four the Stars Fashion House in Melrose Avenue. There was a big publicity hype that British TV Host Johny Pach was coming to town to host the show, which was a big star-studded event. A few TV networks came to see me in action including V Channel and E!. I was on top form that night,which caused V Channel to ask me to come for an audition on the Monday, just before my flight home (randomly they were looking for a British TV Host at the exact same time I was in LA). A month went by, the channel interviewed 20 British TV Hosts already based here in LA and out of everyone they chose me.
What do you miss most from home?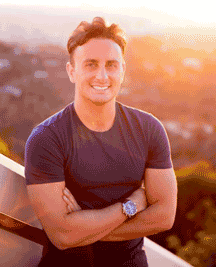 I do not really miss working at home anymore. I worked full time as a business development manager for two big direct response marketing agencies in Liverpool Street, as well as doing all of my TV hosting work week nights and weekends. The intense pressure and stressful life in work was unbearable, working in London from Jan – Feb are the most depressing months of the year and everybody around you is so negative. I said to myself two weeks into living here that I will never ever work in London again.  Working in Hollywood is an amazing experience, you are working your dream to be the biggest global TV host there is, everyone is so friendly, laid back, creative and positive and that massively helps in your working environment. My team at V Channel are incredibly helpful, always creating amazing ideas and they have allowed me and my experience to shine through on my own TV project show.
The only thing I miss from back home is my family and friends, but with the help of Skype and Facetime I can be in contact all the time.
Its a completely different life over here, driving to work in my big SUV, living in an amazing apartment with a gym, pool and jacuzzi and living in the nicest area in Hollywood – Park La Brea with The Grove on my doorstep.
I need to circulate with like-minded positive people all the time and Hollywood is never short of that.
What was your first impression of LA and has it changed since? If so why?
My first impression was 'wow! The people are so lovely, wanting to talk to you and share experiences and everyone is so chilled out, look amazing and are naturally happy – this is the environment I have missed all my life.' It hasn't changed – it's just got better and better, you could be talking to a person in a coffee shop randomly and the next thing you know you're working on a new TV pitch music show with this person. I feel the law of attraction is so naturally strong here, you can plug a thought into the universe of 'I want to meet this person' or 'I need this in my life right now' and honestly an hour later you are speaking to the person who has the best solution for you. You can just feel the healthy, positive energy here in Hollywood is very homely and comfortable, it helps you settle in.
What do you find the biggest difference is living here versus London?
Money seems to have a different value over here. For starters the actually physical money looks like something off of a Monopoly board. You seem to spend a lot quite quickly as soon as you arrive here (moving can set you back about £10,000 in your first month) – but when you have overcome that big expenditure, you will find opportunities flooding in that will maintain you money wise in your specialist craft. There doesn't seem to be any stress of money here as compared to London.
Do you have a hidden gem in LA that you want to share with us?
Yes my hidden gem is Ye Old Kings Head in Santa Monica. If you are a big football fan like I am (I am a big supporter of Chelsea FC) head down to the Ye Old Kings Head in Santa Monica early on a Saturday and you will be able to watch all the games, have a gorgeous cup of tea, full fry up with HP Source and be able to talk and share your experience with fellow Brits. We are so far from the UK and time difference is a real killer, but to get back that home feeling once again then Ye Old Kings Head is the perfect British pub I absolutely love it!
What would you suggest to others who are thinking about making the move here? 
The biggest thing I would recommend is to have a stable contract offer before you fly anywhere and try to save at least £10,000 so you have money here. I would suggest leaving a lot of money in your British account so you can maintain that pound credit and open your bank account here with Chase – they are the best. Do not lease a car no matter how appealing, just pay around $6,500 for an SUV, it will last a lifetime and will never give you any problems and it's cheap to run. It would be a waste of money to just give VW $600 a month, you might as well own your own car. Be patient, people work hard here but it's a lot slower pace in London, so as long as you lay the right bricks, be patient your project or job opportunity will work out. Just go for it! Jump in the deep end, be fearless and reach your goal. You are a Brit in LA, it's wide open for Brits in LA, job opportunities are vast and they love us here! Pick your friends wisely, I have noticed many people here are out of work and once you mention you work for this or that company. people will latch onto you and try to walk over you. Be wise and be careful who you speak to!
If your life was a TV show which would it be and why?
My ambition is actually to have a similar James Cordon show in LA watch this space! Why? Because I love people and just want to be in a show where I can be myself, fun, spontaneous and weird!
Lastly, how can we find out more about you?
Please check out my website www.johnypach.com I am uploading Hollywood blogs to it every week.
Keep track on all my live video activity on Periscope: Johny Pach
Twitter @Johny Pach
Facebook: Johny Pach
Instagram: Johny Pach