Casting complete for latest Lythgoe production
THE FESTIVE season is almost upon us and what kind of Yuletide would it be without Panto?
Fortunately those clever people over at Lythgoe Family Pantos are on the case and has just finalized the cast list for A Cinderella Christmas, a traditional English panto playing at the Pasadena Playhouse from December 8th to January 8th.
Lauren Taylor will star as Cinderella, Morgan Fairchild as The Wicket Stepmother, Kenton Duty as the Prince and Alex Newell as an impeccably topical 'Fairy Godperson'. Matthew Patrick Davis chips in as Buttons and Davi Santos features as Dandini. The play is directed by Bonnie Lythgoe (of So You Think You Can Dance fame) and the book is by Kris Lythgoe, casting by Becky Lythgoe.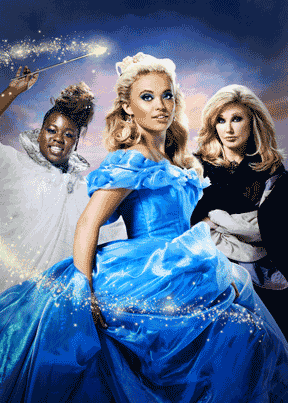 Taylor is perhaps best known for her starring role in Disney Channel's Best Friends Forever while Morgan Fairchild is instantly familiar for her starring roles in the landmark TV soaps Flamingo Road and Falcon Crest. And Glee fans will certainly remember Alex Newell from the wildly popular Fox musical show. More recently, Newell starred in the HBO series Vinyl.
Speaking to the British Weekly about the show, director Bonnie Lythgoe said, "One of the highlights of my year is directing the annual Panto at The Playhouse, and bringing the joy of this magical form of theatre to American audiences.….It is always a thrill to share and explore this one of a kind art form with very best from the worlds of theatre, music, television and dance, and this season's cast features standouts from all of these realms."
Lythgoe Family Panto produces fun, musical theatre the whole family can enjoy and pride themselves on creating a memorable experience a family can share together. Known for their creativity and involvement in television hits "American Idol" and "So You Think You Can Dance," the Lythgoes are dedicated to bringing affordable theatre to families across America. Based on the Grimm fairytales and others, each story has been modernized with topical scripts for parents and well known pop songs for kids. A Cinderella Christmas will include such pop hits as," Meghan Trainor's "Me Too" and "No," Kelly Clarkson's "Breakaway," Michael Buble's "Just Haven't Met You Yet" and Ed Sheeran's "Thinking Out Loud."
This year marks the fifth annual panto production at the Playhouse. Past shows include: Peter Pan and Tinker Bell – A Pirates Christmas starring Sabrina Carpenter and John O'Hurley, Sleeping Beauty and Her Winter Knight starring Olivia Holt and Lucy Lawless, A Snow White Christmas starring Ariana Grande and Neil Patrick Harris and Aladdin and His Winter Wish starring Ben Vereen, Jordan Fisher, and Ashley Argota.
One hour before every performance, guests and their families are invited to enjoy holiday activities in "Winter Wonderland" located at The Playhouse's Engemann Family Courtyard.
The Pasadena Playhouse is located at 39 South El Molino Avenue, Pasadena, CA 91101. Tickets for this year's panto range from $25.00 – $125.00. Tickets are required for admission to the production by everyone with the exception of children under the age of two who can attend the show without a ticket if they sit on a parent or guardian's lap throughout the performance. Ticketsare available by calling The Pasadena Playhouse at 626-356-7529, and online 24 hours a day at www.PasadenaPlayhouse.org.