JANUARY in California traditionally means settling down in front of the telly every Sunday night with a big British costume drama. With Downton Abbey now just a fond memory it's time to engage with another stellar British import courtesy of our friends at PBS – namely the critically-acclaimed ITV series Victoria.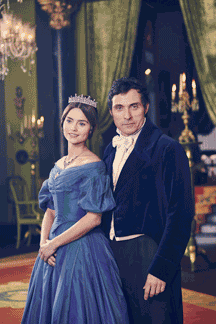 The eight-hour drama follows Victoria (Jenna Coleman) from the time she becomes Queen in 1837 at the age of 18 through her relationship with Lord Melbourne (Rufus Sewell), her first prime minister and intimate friend, and her courtship and marriage to Prince Albert (Tom Hughes). Famous for her candor and spirit, Victoria was the first woman who seemed to have it all: a passionate marriage, nine children and the job of being queen of the world's most important nation. Her often tumultuous reign lasted for 63 years.
The show's writer Daisy Goodwin imaginatively depicts what it was like for an ill-educated, emotionally deprived teenager to wake up one morning and find that she is the most powerful woman in the world. Victoria charts how the new ruler rose to the challenge and weathered a series of crises – some of her own making – without ever losing her youthful charm and innate sense of justice. Indeed she became such a towering figure during her monumental reign that the era is now named after her – as well as referring to a bygone world of strict moral codes, duty, honor and sacrifice.
Victoria debuts on Sunday, January 15th from 9-11pm on PBS. Definitely not to be missed!