Rosie Swale-Pope: another Great Brit global adventurer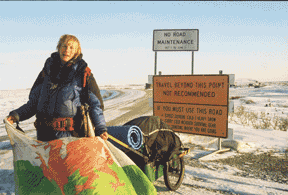 Manhattan Beach: Global adventurer Rosie Swale-Pope MBE, spent Christmas in the South Bay as she advanced toward the Queen Mary in Long Beach for the December 29 finish of her Run Across America for cancer awareness and to inspire people to live life to the fullest. Rosie traversed the country pulling her 300lb cart, "Ice Chick," in a journey that began when she disembarked the Queen Mary 2 in New York in October 2014.
A native of Wales, Rosie is an ambassador of good will. She has covered approximately 10 miles per day on this adventure, with plenty of time to stop and visit with people she meets along the way. Rosie and her side-kick, Ice Chick, are an eye-catching duo. Ice Chick is a bright red, three-wheeled, carbon fiber cart made by the Amish, which carries Rosie's "kit" and provides her shelter. Rosie, a seventy-year old grandmother, is lively and blond, and her ebullient personality alongside Ice-Chick bedecked in her Christmas finest including tinsel, flashing lights and a miniature Christmas tree, make a joyous impression that is impossible to miss (or forget).
Rosie follows in the footsteps of a long line of British adventurers – she is the only person (man or woman) complete an epic solo, self-supported run around the world – 21,000 miles, following a route that took her through multiple bitter Siberian and Alaskan winters. Considered one of the world's top women ultra-marathoners, her adventure CV includes completing 27 marathons in 27 days, completing the Marathon des Sables twice, a speed trek to Everest Base Camp, a record-breaking solo transatlantic voyage in a 17 foot sailboat, and riding 3,000 miles on horseback through Patagonia. Rosie runs for humanitarian causes, and was awarded an MBE for her charity work by Queen Elizabeth II. A beloved advocate for all who could use a little inspiration, Rosie runs with love and compassion in her heart – making friends and sharing her joie de vivre with those whom she meets along her journeys.
Swale-Pope somehow finds time to be a prolific author, having documented her adventures in several books. She arrived in LA ahead of schedule, and is spending her days exploring the Southland with Ice Chick, meeting and winning the hearts of Angelenos, and working on her current book.
For additional information, visit www.rosieswalepope.co.uk. or on social media at www.facebook.com/rosieswalepope.