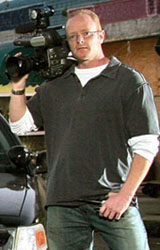 LOCAL BRITON Austin Raishbrook was hailed as a hero this week after rescuing a man from a burning vehicle on the northbound Harbor Freeway in the early hours of Sunday morning.
Raishbrook (pictured, left), a Brits in LA member and owner of RMG News, was out filming when he saw the stalled car on the freeway get rear ended and burst into flames. According to news reports Austin leapt into action, smashing the window of the burning vehicle and dragging out the unconscious occupant. He stayed with the man until the California Highway Patrol and paramedics arrived.
A law enforcement source said the unnamed driver was 'doing well' and that "it would have been a very different situation if he (Austin) hadn't rescued him".
A source told the BW that Austin, a father of two, escaped with just a slight singing to his hair.