Fair fa' your honest, sonsie face,
Great Chieftan o' the Puddin-race!
Aboon them a' ye tak your place,
Painch, tripe, or thairm:
Weel are ye wordy of a grace
As lang's my arm!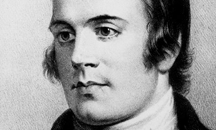 For the uninitiated, the above is taken from Ode to A Haggis, the classic work of Robbie Burns whose upcoming birthday will be celebrated by Scots worldwide. and the Orange County chaper of the British American Business Council is getting in on the act, hosting  a Business After Hours Burns' Night celebration on Friday, February 3rd from 6 to 9pm at Gulliver's Restaurant, 18482 MacArthur Blvd., Irvine. Attendees are encouraged to break out their tartan, tammies, scarves, knickers and kilts for a fun evening featuring Scottish music with piper Cindi McIntosh Behr, a premium whisky tasting and 'entertaining Scottish frivolity'.
Scotland's national bard will be celebrated in traditional style, with his classic Ode To a Haggis recited before the 'Chieftan o' the puddin'-race' is sacrificed. The event will also feature a special Scottish raffle and auction. Hors d'oeuvres & Haggis will be served. Tickets are priced at $28 for members and $35 for non-members. For details and tickets, email Valerie Blackholly at Valerie@babcoc.org