Exclusive interview with author Virginia Taylor about her new novel, a historical romance set in colonial Australia
Review by Gabrielle Pantera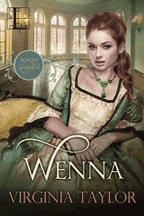 "Wenna is the fourth of my historical romances set in Adelaide, South Australia," says Wenna author Virginia Taylor. "During this time that Adelaide was being settled, the mines in Cornwall were beginning to close down. The out-of-work miners were desperately needed to help the country prosper. Tin, gold, and copper had been found in abundance. My ancestors were among the original settlers who came here from Cornwall to mine copper."
"To choose a form of deprivation in order to make a better life in the end was an amazing sacrifice," says Taylor. "Not that anyone knew that before they left England. The new migrants gambled on South Australia being the Utopia of the South as it was touted. In contrast to the stories of convicts sent to New South Wales, the free settlers who migrated to South Australia bought land. Within twenty years the city of Adelaide, a port, municipal buildings, hotels, and country townships had been built and industries had been established. Part of the population lived in rural areas, running cattle or sheep, or growing grain. Hard work made fortunes."
In colonial South Australia, lady's maid Wenna Chenoweth is dismissed from her job after a guest at a party flirts with her. Aristocrat Devon Courtney is at a house party to see Miss Patricia Brook. Flirting with Wenna was harmless fun on his part. He never intended to get Wenna dismissed. He likes her and offers a bold proposal. Marriage. It would solve problems for Wenna and himself. Two different worlds are about to collide.
"Like the others in the South Landers series, Wenna features the first generation born in my country," says Taylor. "Usually Australian stories of a historical nature are set in the state of New South Wales. Traditionally, being transported via convict ships and beaten into submission by guards, or speared by natives…. Regardless, I found the tales of the first settlers every bit as romantic as those of the convicts in the other states. All this wandered through my mind before I began my series of historical romances set in South Australia. I wanted to tell stories of enthusiastic settlers and the various industries they began in this abundant country."
"I contacted the fire station in the city to find out about the fire fighting equipment they used in those days," says Taylor. "I did this by phone. The fireman at the other end of the line was flirty. I'm only human. I imagined he looked like one of those hunks on the fireman calendars. He gave me all the information I needed. I had a lovely time on the phone, until he decided I ought to come into the station to meet them all. I wriggled out of the visit. The other romance writers in my group were very disappointed in me for refusing to take them on a group tour to meet these gorgeous guys."
Taylor says she's been inspired in her writing by Winston Graham's book series Poldark. "The heroine, Demelza, completely charmed me. She rose from the bottom of the social strata to the top. Not because she was beautiful, but because she worked hard to achieve any of her aims. She never let anyone mess with her or her family. Another of the characters in the series is named Morwenna. I thought that name was glorious and so red-headed Wenna was born in my mind, using a strong woman like Demelza together with my own family's heritage."
Taylor's next series of books is Design for Romance, three contemporary stories related by the heroines' interest in design.
Taylor was born and still lives in the state of Adelaide, in South Australia.
     Wenna by Virginia Taylor. Trade paperback, 230 pages, Publisher: Lyrical Press (January 31, 2017), Language: English, ISBN-13: 978-1516100101