By Franz Amussen
THIS WEEKEND sees the opening of "946: Then Amazing Story of Adolphus Tips", the latest production from Britain's acclaimed Kneehigh Theatre Company at the Wallis Annenberg Center for the Performing Arts in Beverly Hills.
Based on the novel by "War Horse" author Michael Morpurgo, the show is set in WW2 Britain in the sleepy Devon village of Slapton Sands – a name which still brings discomfort to Britons of a certain age, and offers an intimate snapshot of life on the homefront. While the war rages elsewhere, Grandpa Tregenza (Mike Shepherd) and his daughter plough on in the fields, and 12-year-old Lily (Katy Owen) is as mischievous as ever, forever chasing after her pet cat Tips. Life, as they say, goes on.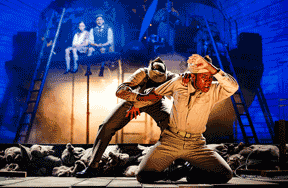 And yet, everything changes. The war is never far away as fathers are absent and rationing cuts deep. A trainload of evacuees arrive, and then US soldiers in rehearsal for a certain cross-channel invasion that is now just weeks away. The soldiers bring music, life and energy, but then it all goes wrong, the tragic death toll at Slapton Sands evident in the play's title.
In the meantime there is laughter and music and coming of age, young love blossoms and friendships form. The show is as much about keeping up morale and the comforts of everyday life as it is about the shock of the new, the realities of life and death and how this remarkable little community manages in a most singular time.
The imaginative staging and infectious enthusiasm of the Kneehigh production is the hallmark of its former leader Emma Rice, now the artistic director at Shakespeare's Globe, but it doesn't neglect the somber side of war. The company twist domestic items and playthings into images of war. School desks become barricades, and toy boats in bathtubs become the English Channel on alert. There's plenty of fun, and lots of dark somber moments. This is war, after all.
'906' runs through March 5th at the Wallis, which is located at 9390 North Santa Monica Boulevard in Beverly Hills. Box office: 310 746-4000 or visit www.thewallis.org.