By Franz Amussen
A WELCOME RECENT import to television on these shores is The Coroner, which debuted last Sunday on KCET and continues Monday nights 8pm in the weeks to come.
The show focuses on former high-flying solicitor Jane Kennedy (Claire Goose), who after yet another failed relationship, returns to take up the post of Coroner in the small South Devon seaside town of Lighthaven she left as a teenager. She finds herself working with Davey Higgins (Matt Bardock), the boy who broke her heart and is now the local Detective Sergeant for the South Dart Police.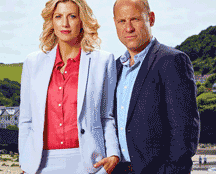 Jane and her daughter Beth (Grace Hogg-Robinson), the politest emo teen you could hope to meet, move back in with her mum, the excellent Beatie Edney who was so thoroughly enjoyable in Poldark. The main cast is perfectly rounded out by Mick, the pub landlord, played by the equally charismatic Ivan Kaye. The set-up allows for three substantial female leads and a Moonlighting-style detective duo, often pushing and pulling good-naturedly in opposite directions.
The backstory is all in place when we meet the Kennedy family and hardly any of it is spoken aloud. The relationships are clear from the off and already infused with an unforced warmth.
Abbott sets and solves a mystery, accounts for every character, keeps the dialogue natural and exposition light while feeding that audience need for a likeable world to invest in, all in 45 minutes. The show is perhaps most reminiscent of the late lamented Lovejoy, the Ian McShane vehicle which set a standard that few shows of this type even aspire to, let alone reach.
Monday, February 13th sees episode two, The Fishermans Tale, in which a popular local businessman is shot dead by a sniper in public. Davey is forced to watch as an officer from the Metropolitan Police takes over his investigation and then makes a move on Jane.
Episode three, titled Gilt, airing February 20th, sees a treasure hunter found dead in his own home, prompting Jane to wonder whether one of his colleagues wanted the loot for themselves, while the locals fear it was something more supernatural.
KCET-TV is public television for Southern California. Check your local listings for details.