Exclusive interview with author Kelly Lyonns, discussing her new historical novel set in Napoleonic Lisbon
By Gabrielle Pantera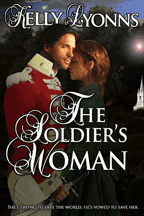 "This book is really a culmination of a transition in my life from freelance environmental scientist with my own business to creative writer," says The Soldier's Woman author Kelly Lyonns.
"The original idea must have sprung up about 2010. This romantic scene popped into my head…this smoke filled room in a war somewhere with her standing in front of some children with a pistol ready to defend them. A few of those original elements have survived into the final story."
The Soldier's Woman is the first book in the Bladewood Legacy series. Colonel Maximillian Bladewood is used to giving orders and having them obeyed. Charlotte Everslea seeks artefacts related to the paranormal. She accidentally saves Max's life. It's Napoleonic Portugal, and Bladewood is trapped behind enemy lines. He finds Charlotte infuriating. She wants to rescue some children. Max has to make sure they evade Napoleon's army. Is it love or madness?
"Researching is one of my skills honed during my years as a scientist," says Lyonns. "Google was my first port of call looking for archives. Places like the British Museum, regional museums, auction sites which dealt with historical antiques, re-enactor sites were all troves of information. My local library also had historical books relevant to the era."
Lyonns says she became "a total history bore" about the Iberian Peninsula wars. "I drove my family to tears listening to why there was a horse shortage, and about the tradition of shaving mules in Portugal. Oh and that was before I started researching how long riding habits were and what sort of material and dyes they used in manufacture. I've even watched the YouTube videos of re-enactors on their holidays about Europe or riding events. Then I looked into agricultural practices in rural Portugal in the late 1700s to early 1800s so I knew what Maximillian and Charlotte would be offered for lunch by peasants in Portugal. Uniforms, muskets, pistols, horse saddles, boots, regimental colours, maps…anything really, that let me get closer to the area around Lisbon in the years 1808 through to 1815."
Lyonns also toured the area around Lisbon trying to superimpose the historical maps onto present day cities. The Soldier's Woman is her first novel. Previous works have been scientific. She also writes science fiction. Lyonns says she didn't start reading romance until her late twenties.
"A friend had left some books for safe keeping and there were some historical romances amongst them. Where had this genre been all my life? Once I read some Stephanie Laurens, Mary Jo Putney and Amanda Quick I was hooked on Regency romance. But it was the paranormal Regency romances of Amanda Quick that fascinated me."
Lyonns is currently writing the second book of the Bladewood Legacy series, The Sailor's Lass. The second Bladewood brother, easy-going Arthur Bladewood, an officer in the British Navy, is about to run into trouble in northern France with the psychic Susanna Greyson.
Lyonns is based in the subtropical city of Brisbane, Australia. She was born in Finland.
The Soldier's Woman (Novel from the Bladewood Legacy book 1) by Kelly Lyonns. Trade Paperback, Publisher: Atlas Productions Pty Ltd (February 9, 2017), Language: English, ISBN-13: 978-0995377622 $22.50