Exclusive interview with author Sabrina Jefferies talks about the new edition of her Regency romance Windswept
By Gabrielle Pantera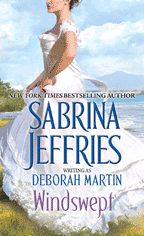 "I've been fascinated by Wales since I was a little girl," says Windswept author Sabrina Jefferies. "I especially loved all the mystical aspects of its culture. Where else would a horse's skull be paraded around as part of holiday celebrations? Its connection to Arthurian legend, another favorite of mine. Its Druidic roots."
It turned a bit mystical for Jefferies after writing Windswept. "Things I didn't know when I wrote a book, things I thought I was making up, turned out to have a basis in real life. There actually was a famous scholar in 18th century Wales named Evan Evans, who'd been born a farmer's son, but had been taken under the wing of a Squire William Vaughn. Strange, considering that at the time I found that info, I'd already written my book. I've had this happen several times."
In Windswept, Catrin Price is searching for an ancient Druid chalice, a family heirloom that has a death curse attached. Any man whom she marries without first drinking from an ancient Druid chalice will die. However, long ago an ancestor sold it. She doesn't want to believe the legend, but her husband died. Now the man who had the chalice is dead too. Scholar Even Newcome travels to Wales to find the mystery woman seen with his late friend. He finds Catrin who's shy and beautiful. But is she a killer?
Evan Newcome, the hero of Windswept, appeared as a boy who was helped by the hero and heroine of Stormswept, Squire Rhys Vaughan and his wife Juliana.
"I fell in love with him because of what he suffered as a child at the hands of his abusive father," says Jeffries. "I wanted to deal with a character who was naturally intelligent but had not been given a chance to nurture that intelligence until his benefactors helped him. Evan epitomizes the argument about nature vs nurture. So I developed a story where he had to face his demons. And I had to find the perfect heroine to go along with that, someone who had her own fears and could share his scholarly love of myths and legends."
Jeffries read more than 35 history books about Wales in writing Windswept. Jeffries originally wrote this book under the pseudonym Deborah Martin. Jeffries revised Windswept and it's now available as an ebook too.
" In pre-Internet days, my librarian husband had to get all the books for me through interlibrary loan," says Jeffries. "One day, he came home and told me that the library had cut me off because I'd reached my limit for the year, which was apparently 35. But then he added that it didn't matter because he would just switch to ordering them on his own library card. What a hero! Living in New Orleans, I wasn't able to find many books on the subject of Wales, hence the use of interlibrary loan."
Jeffries has over 50 works published under the names, Deborah Martin (dark, dramatic historical romance), Deborah Nicholas (contemporary paranormal romantic suspense), and Sabrina Jeffries (lighter and sexier Regency historical romance). In 2009, she won the RT Book Reviews Career Achievement Award for Historical Romance. Windswept has not been optioned for film or television.
Jeffries is currently writing a short story for her Sinful Suitors series. The series is about the newly formed St. George's Club, founded by a group of well-meaning gentlemen who conspire to keep their unattached sisters and wards out of the clutches of sinful suitors. Works fine, except when the sinful suitors are members. The Pleasures Of Passion, the fourth book in the Sinful Suitors series, releases this summer.
Jeffries was born in New Orleans and lives in Cary, North Carolina. You can find her online at www.sabrinajeffries.com as well as on Facebook and Twitter.
Windswept by Sabrina Jeffries writing as Deborah Martin. Mass Market Paperback: 368 pages, Publisher: Pocket Books (February 28, 2017). Language: English, ISBN: 9781451665550 $6.99 Kindle version $5.99