By Gabrielle Pantera
THIS WEEK saw the debut of the popular British mystery series Agatha Raisin on KCET, the local PBS affiliate in Southern California.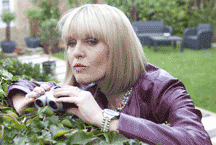 Based on the beloved character created by M.C. Beaton, Agatha Raisin follows a public relations specialist who moves from London to the small Cotswolds village of Carsley hoping for a quieter life. But she soon finds her dreams dashed when she becomes a murder suspect after entering a quiche-making competition. In her efforts to clear her name, Agatha discovers she has a talent for crime solving.
Speaking to the British Weekly recently, Beaton, told us the transition from the printed page to the small screen could not have been smoother.
"Mammoth Television did invite me to every read-through," says Beaton. "They told me if I didn't like anything, they would change it. Actually they didn't, but they were so nice to me I was out of the door before I realized it. Barry Ryan of Free@Last TV took out an option so long ago I've forgotten, and stuck with it. Suddenly, about three years ago, we were up and running."
"To cast and film the first pilot took about six months," says Beaton. "I had no input whatsoever in the casting. With actors like Ashley Jensen, I was just lucky. Yes, she's blonde and the Agatha of the books is not. And, she is younger. But, she is a marvelous actor and brought Agatha to life. I like the fact that Agatha is not politically correct. She smokes, drinks and wears mink."
In the series pilot, wittily titled The Quiche of Death, we meet Agatha (Ashley Jensen) as she decamps from the capital to the Cotswolds where she soon finds a new career as an amateur detective investigating mischief, mayhem and murder in her new deceptively quaint town, after her entry in a quiche-baking contest kills the judge.
In the forthcoming episode The Blood of an Englishman, Agatha indulges her friend Mrs. Bloxby, the vicar's wife, and joins her to see some local amateur theater. The baker, a menacing ogre on stage, vanishes in a puff of green smoke. He doesn't join the rest of the cast for the curtain call. On her drive home Agatha sees emergency vehicles rushing toward the theater. She turns her car around and goes back. The baker has been murdered. But why?
The first season, airing every Thursday at 10pm, has a total of eight episodes, including The Walkers of Dembley, Hell's Bells and the Wellspring of Death. Certainly enough to keep British mystery fans happy well into May.
Beaton has published many romances, mysteries and crime novels including the Hamish Macbeth series and Edwardian Murder Mysteries. The Hamish Macbeth series and The Poor Relation historical romance series, have also been optioned by Free@Last TV. Based in London and Scotland and run by Barry Ryan and David A. Walton, Free@Last has produced over 450 hours of prime time television, from factual entertainment series to the Martina Cole drama series Lady Killers.
Beaton splits her time between the Cotswolds, England and Paris. She was born in Glasgow, Scotland. You can find out more about her by visiting her website at www.mcbeaton.com/us.
Jensen, the forty-something Scottish actress best known as Ricky Gervais' sidekick in Extras and America Ferrara's pal in Ugly Betty, certainly seems to be enjoying the move to center stage, telling the Daily Express: "I've had an entire career playing people's best friends." And talking about her experience with the show she said: "After Extras, I haven't laughed so much on a job until this one. That makes it sound like it's a little unprofessional, but there's just such an atmosphere of camaraderie and that went through the whole crew."
Filming Agatha Raisin means spending time in the Cotswolds, which suits Ashley just fine. "It's such a fun show," she adds. "It's very glossy and it's very shiny. It looks like a few quid has been spent on it, doesn't it?"
"In this programme, we're dealing with murder, ostensibly – people are losing people and they're going through grief. Even for Agatha, her relationship situation is up and down and all over the place and that's very heartfelt. What we're trying to do is fluctuate between drama and comedy within the same programme and I hope it's worked."
Jamie Glover plays Agatha's on-off-on-again love interest James Lacey. "It's Moonlighting, isn't it?" Jensen laughs about the 'will they? won't they?' dynamic that ensues. The two characters are drawn to each other even though they rub each other up the wrong way. "I think she likes him because he's the total opposite. He's academic and literate and bookish and quiet and sensible and he's a proper gentleman in the old sense of the word."
If you missed Agatha's debut on KCET this past Thursday, fear not. Each episode is available online at KCET.org/AgathaRaisin for streaming 14 days after the original telecast.