My favorite British action hero Jason Statham is about to turn 50, but he admitted he's "feeling pretty nimble" as he prepares to welcome his first child with his sexy Supermodel fiancé Rosie Huntington-Whiteley.
Oo-bloody-er!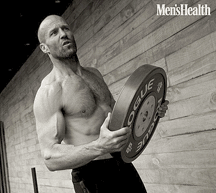 The Hollywood hearttrob told April's Men's Health: "I'm moving better than I used to. I'm feeling pretty nimble."
Jason insistes he is feeling fit and ready for the new challenge.
"It's about the whole thing: training, eating, sleeping… all of those have a massive impact on how you feel. And I'm doing better at all those things, he said.
"Sly Stallone's got 20 years on me and still looks good so he's part of my inspiration."
As he prepares to be a father, Jason also opened up about being labelled a 'hardman', laughing: "These public labels, the things the media like to paint you as, I don't really look at them. I see myself as a pretty standard sort of chap, really. I keep a lot of my pals close to me and I think that keeps my feet on the ground.
He added: "Hollywood has a caustic effect on a lot of people. It's a cruel business. You can get a big head about things. But what goes up must come down."
Rosie confirmed her pregnancy last month, posting a stunning bikini snap to her Instagram, with her flaunting her growing bump as she posed on a beach.
"Very happy to share that Jason and I are expecting," she captioned the image, crediting the photo to her actor fiancé.
The couple looked very loved-up as they attended Vanity Fair's star-studded Oscars after party on Sunday night.
Jason was pictured gazing adoringly at his pregnant partner, looking very dapper in a smart black suit and bow-tie as she showcased her baby bump in a sensational silver gown.
The floor-length satin number skimmed over her growing tum and the Victoria's Secret model flaunted her ample cleavage as they posed together for photographers.
Supermodel Alessandra Ambrosia was later spotted congratulating Rosie as she beamed at her bump before they snapped a couple of pictures together.
The full interview is available in the April 2017 issue of Men's health, on sale now. Also available as a digital edition.