Former Harry Potter starlet Emma Watson gets that she's a superstar, but she still wants to have a life outside of fame.
That's why the British actress is declining to pose for selfies with fans these days.
Oo-er!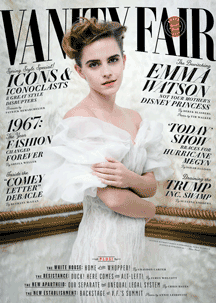 "For me, it's the difference between being able to have a life and not," Watson told Vanity Fair in her cover interview this month.
"If someone takes a photograph of me and posts it, within two seconds they've created a marker of exactly where I am within 10 meters."
Even though she is soon to attract even more fans when her latest film, a live action version of Disney's "Beauty and the Beast," when it hits theaters March 17, Watson says she's learned to say no to selfie requests and is being more private.
Boo-hoo!
"[The public] can see what I'm wearing and who I'm with," she said of the photos. "I just can't give that tracking data."
Having grown up in the glare of the public eye with eight "Potter" movies under her belt, Watson is accustomed to attention.
She said she's come up with a compromise for those who are super excited to meet her.
"I'll say, 'I will sit here and answer every single Harry Potter fandom question you have but I just can't do a picture,'" she said.
Watson is selective about who she enforces the ban with.
"I have to carefully pick and choose my moment to interact,"she said. "When am I a celebrity sighting versus when am I going to make someone's freakin' week? Children I don't say no to, for example."
Photos aren't the only place she draws the line: Watson adamantly refuses to discuss her boyfriend.
"I want to be consistent: I can't talk about my boyfriend in an interview and then expect people not to take paparazzi pictures of me walking around outside my home," she said. "You can't have it both ways."
She's a proper little madame, ain't she!