Time to put my feet up! Oscar week this year was probably my best ever – but my liver has taken quite a beating! While tapping this column out on my laptop I feel I need at least a month to recover, not just because of the alcohol intake, but the constant smiling and laughter and joy that seem to be spread around during the week. It's just TOO. MUCH. FUN. But in the spirit of the times I'm going to fashion this week's column in the style of Vanity Fair editor Graydon Carter's old column "Out and About in TinselTown".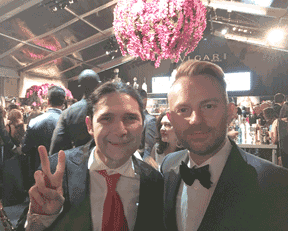 Regular readers will know all about who won what at the Toscars thanks to the report from our lovely BiLA benchwarmer last week. But what you didn't see was the post-ceremony debauchery at the after party, including late-night Sloppy Joe eating at Fat Sal's on Highland and Fountain. Which apparently (according to writer/director Marc Cleary) includes a tradition that the event's host (moi) pays for everyone too. This is a tradition that I must change before more participants join the Toscars next year, or I'm going to need a second mortgage.
The next evening we decamped to the British Consulate's salute to all the British Oscar nominees where we enjoyed a wonderful and intimate performance by Jessie J. Not only is the singer extremely talented but surprisingly funny too. Among the good and the great on hand were the former CEO of my favorite charity UKares – Fiona Harden, Deputy Consulate-General Bernie Green and our very own Sandro Monetti, who apparently is getting so famous that he had TWO imposters pretending to be him trying to gatecrash the party. What nerve!
If that wasn't enough we then met friends for drinks at Soho House and finally arrived at Chateau Marmont for a VERY late dinner with fellow Brit Mel Brown from Impressive PR, KJ Miller, Stylist Tom Soluri and Eileen Lee. It was cold but the champagne was flowing and we closed the place down in high spirits.
Friday night saw me back at the Chateau with my better half and some friends for Bulgari's Oscar Party at the famed Bungalow 1, followed by dancing at Giorgio's NightClub at The Standard hotel where we enjoyed VIP table service courtesy of Bryan Rabin before ending up at a warehouse rave in Downtown LA in the rain. (Yes I'm aware I'm way to old for this malarkey).
Saturday brought a beast of a hangover, but trooper that I am I fought it off in time for Sunday's ceremonies, which I enjoyed at Elton John's Oscar Party, held inside a humongous tent erected on the West Hollywood Park site. This fabulous bash featured a beautiful, elegantly designed room, white lush carpets throughout with a red and purple flower chandeliers, a hidden dance floor with 70's disco music pumping out, and gorgeous women and handsome men boogie-ing the night away. I caught up with Corey Feldman, from one of my all-time favorite films "The Goonies" and we talked about the shocking ending of the Oscars with envelope-gate. This year was the 25th anniversary of Elton's Oscar Party and it definitely didn't disappoint,
Finally the gorgeous Chinese actress Bai Ling grabbed me by the arm and confided that her mispronunciation of the Best Whactor nominees at the Toscars a few nights earlier was all just a ruse – and that he mangled the names for a laugh… well she certainly got that. The only thing not laughing was my liver, which is pretty well chopped right now. Time to head back to the gym, bidding a fond farewell to awards season….until next year.
Cheers!
Craig Young