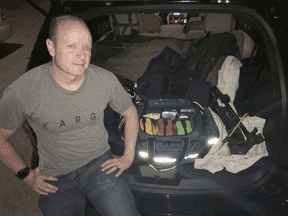 Meet Austin Raishbrook from Gillingham who moved to LA 22 years ago to pursue a career in media.
Was there a particular reason you chose LA? 

Los Angeles offers a huge variety of career opportunities, especially in media and journalism.  The entrepreneurial, extremely competitive environment allows those that have the rigor to become very successful in their field.  In 2005 I started RMG News (with my two brothers) and we have since become one of the most-respected news gathering agencies in LA.  We embed ourselves in the worst areas of town and capture the unimaginable scenes left behind by gang violence, drug warfare and inner city life.  We supply the world's mainstream media outlets with adrenaline-filled, breaking news footage on a daily basis and with over 20 years in the profession our ever-growing archive contains some of the most dramatic footage available.

What do you miss most from home?
Of course my family, but also the peace and tranquility of the English countryside (I left when I was 18 because nothing exciting ever happened in the deepest, rural parts of Dorset – now I kind of long for those days!).
What was your first impression of LA and has it changed since ? If so why?
I came here as a news journalist (I grew up watching COPS) so I sort of knew what to expect -and LA certainly didn't disappoint.  The local news headlines were full of gang warfare, police chases and other fascinating news stories – something I certainly wasn't used to growing up in the country.  I soon realized that the news media here was more about ratings than the news itself, world news was almost non-existent and they would break into the daytime talk shows for live coverage of a police chase.  With social media now playing such a critical part of daily life, this thirst for live, action-filled news footage is even more prevalent than before – every news incident now plays out on Twitter with updates by the second.  I was also surprised by the territorial diversity in LA, more specifically by the fact you could be driving though Beverly Hills one second then a few blocks later you could be facing a rundown, crime ridden part of town. It was more amazing that the crime rarely spilled over those borders, even to this day it rarely does.
What do you find the biggest difference is living here versus Gillingham?
Quite clearly the crime is worse in LA but the career opportunities
 here, certainly in media, are by far superior.  The outdoor opportunities (we are outdoor enthusiasts) here are so diverse and so different from Dorset – an LA triathlon consists of surfing in the early morning, a round of golf midday then skiing in the afternoon.  There are also a lot more predatory animals here in the LA area – mountain lions, bobcats, bears and rattlesnakes to name a few (you will rarely see them though).
Do you have a hidden gem in LA that you want to share with us?
Not LA per se but a couple of hours east, in the San Bernardino Mountains, is a little town called Lake Arrowhead.  It's a close-knit, welcoming community surrounding a lake with wonderful cabins for rent, great hikes and outdoor opportunities – a stark contrast to the inner city life.  For a great meal, at a small, family owned restaurant I would certainly suggest a visit to the Old Country Coffee Shop in Running Springs, they have great food.
What would you suggest to others who are thinking about making the move here? 
Don't let everything you see on the news cloud your beliefs of what this town actually has to offer.  The chance that you will see, let alone be involved in any of the stories you see on TV is very, very unlikely.  Have a clear goal of what you want to achieve in this town and make sure you get out and meet people!  It really is about who you know and not necessarily what you know.
Lots of our members join our group Brits in LA seeking out words of wisdom – what is the best piece of advice you've been given? 
Explore every opportunity but be wary of things that appear to be too good to be true. This is a huge city and people can easily fall for the LA hype, so know the dangers of life in an urban environment.  Be street-smart.
Lastly, how can we find out more about you?
I am very happily married and have a gorgeous wife (also English!), we have two fantastic young boys (one is almost five, the other nine months) and we live in the mountains just east of LA. I own RMG News with my two brothers, Howard (my identical twin) and Marc (five years younger). I am currently in a reality show filming for Netflix (due out this summer).  I was the inspiration behind the movie Nightcrawler starring Jake Gyllenhaal and served as a technical consultant on the film (I can also be seen in a couple of scenes playing a news cameraman and was interviewed for the behind the scenes DVD). I also starred in a reality show called 'Stringers: LA' on TruTV for two seasons in 2008/2009.  I've appeared in dozens of magazines and newspapers and have been the subject of many documentaries around the world highlighting my escapades over the last 20 years (I've been shot at, chased by gang members, had my camera gear smashed and stolen and actually got trapped in my own apartment fire (which I videotaped…).  My company has also produced (and is still producing) a show called XRC (Xtreme Realty Clips) I also worked for Splash News for the past 14 years as their Global Operations Director. Splash, for those who don't know, is a news and photo agency founded 25 years ago by a couple expat Brits, Kevin Smith and Gary Morgan, which has since grown into probably the world's leading celebrity news agency.