Book Review: Swimming Lessons
In an exclusive interview, author Claire Fuller talks about her novel of love lost and remembered
By Gabrielle Pantera
"The inspiration for Swimming Lessons came from a project that my now husband and I did before he moved in with me and we got married," says author Claire Fuller.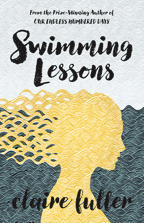 "He was living in a flat about 40 miles away from my house. We decided that we would write notes to each other, love notes I suppose, since we hadn't long met, and hide them in each other's houses.
Then Tim packed up his flat to move in with me and in the process found all the notes I'd written to him. Apparently, eight years later there are still two notes hidden in the house we share together, but I have no idea where they are. And, he won't tell me."
In Swimming Lessons, Gil Coleman is a famous author whose wife Ingrid disappeared twelve years ago. Did she leave or did she drown in the ocean outside their Dorset beach home? Before she vanished, Ingrid wrote letters to Gil and hid them in his prized books for him to find. Because Gil had fallen, Gil's daughter Flora and her old sister Nan come to help.
Flora never believed her mother drowned. She discovers some letters and starts reading them. She and her sister learn about how their parents met and about their life together. There are thousands of letters that the girls will find. What do they mean?
"Luckily for me, most of the research was done on location in Dorset in England," says Fuller. "There's a lovely bit of coastline there, with sandy beaches, a small lake, and wonderful heathland. I spent a lot of time there walking and taking in the smells and the sounds while I was writing the book. The original idea for Swimming Lessons came in about 2013."
Fuller's first novel, Our Endless Numbered Days, was published in 2015 by Tin House Books and in the UK by Penguin. Our Endless Numbered Days won the 2015 Desmond Elliott Prize prize for debut novels in the UK and Ireland. It was recently optioned for television. Fuller, who writes a lot of short stories, has won a BBC Opening Lines short story award and a Royal Academy Pin Drop short story award, where the actress, Juliet Stevenson read her story.
Masie Cochran at Tin House Books is Fuller's U.S. editor.
"When I first met Claire over Skype, I was totally charmed," says editor Masie Cochran. "She is everything her writing leads you to believe…smart, thoughtful, funny and a little dark. There is already great momentum and praise behind Swimming Lessons, Book of the Month Club's first ever first early-release exclusive title. And early reviews have been stellar, including glowing starred reviews from Booklist and Library Journal."
Fuller just finished the first draft of her third novel.
     Fuller lives in Winchester, Hampshire. She was born in Sydenham, Oxfordshire, England.
Swimming Lessons Hardcover by Claire Fuller. Hardcover: 356 pages, Publisher: Tin House Books (February 7, 2017), Language: English. ISBN-13: 978-1941040515 $25.95