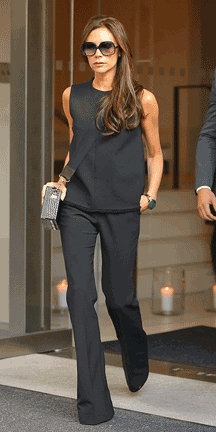 Fashion icon Victoria Beckham is going global!
The celebrated fashion designer spoke to  leading Germany business paper  Handelsblatt this month in one of her rare interviews about her plans to make it even bigger in the fashion biz.
This year the former Spice Girl was awarded the OBE ('Order of the British Empire') by Queen Elizabeth II and now says she is on track for massive worldwide expansion.
Oo-er! 
Beckham, 42, won a British Fashion Award as designer brand of the year in 2011, and manages her brand in a partnership with her husband, the former soccer star David Beckham and British music manager Simon Fuller. She told Handelsblatt: "I do want this company to be big. I have very, very big plans regarding my business, obviously the last few years and now is the time for investment.
"So as we are a group we need to take my brand to the next level together. We are having to invest."
She said: "My priority is to take the brand and the team to the next level. There are lots of things I want to do." In particular, Germany is "a very, very important market" for her. 
"It always has been. Even with the Spice Girls, Germany was always a very important market. Unfortunately it is one of those countries I don't really get the opportunity to go to often enough."
Victoria, who recently broke into the U.S. market, announced the cooperation of her brand with U.S. cosmetic giant Esteé Lauder. And she is also launching her own less expensive designer clothes range in collaboration with U.S. budget fashion retailer Target, "which is something I wanted to do for a long time."
"So I am reaching women in America that can either not afford designer prices or don't want to  pay designer prices."