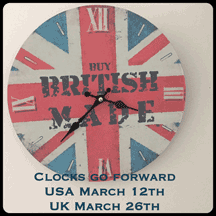 I KNOW I've been banging on about the rain in recent months but now it seems like normal service has been resumed – skies are blue and the sun is shining. In other words spring has sprung and that means the clocks will go forward shortly –  in case you didn't know the USA and the UK choose to do this on different dates! In the US the clocks go forward this weekend,, Sunday March 12th, and in the UK it's Sunday, March 26th. And for those of you planning to send Mum some flowers, don't forget that Mothering Sunday is March 26th in the UK and not until May 14th on these shores.
For those of us who find this a bit of a nuisance as it is impossible to get a card to send back home, I have found that moonpig.com comes in handy, as you can order a personalized card online and have it delivered from within the UK.
I am partial to Dean Morris Cards but I never seem to get organized enough to order them in advance. The British stores out here are missing a trick by not having them in stock. Just a hint for those lovely stores which advertise in these very pages…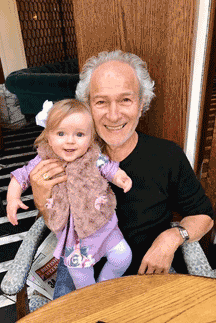 Our Tuesday Breakfast Club presented with Air New Zealand had a very special visitor this week. Florence is possibly our first third generation Brits in LA member – her glamorous grandparents Mary and Martin Samuel are regulars at our weekly gathering, and introduced their son Matt to Brits in LA some years ago – we can't take credit him meeting the lovely Jennie Page but we are delighted to welcome their gorgeous daughter to our community.
Mo' giveaways
We love to take care of our members and this week we have more concert ticket giveaways courtesy of Goldenvoice! Clean Bandit are at the Fonda on April 5th and Róisín Murphy has two nights scheduled at the Fonda on April 20th & 21st – email us at info@britsin.la  to put your name into the hat. Winner will be notified by email on Monday March 13th – make sure to put the show you are entering for in the subject field.
Another prominent figure in the group is our friend, actor and comedian Jim Tavaré. He and his wife Laura have always been very supportive of our group and some of you may recall Jim was a marvelous Master of Ceremonies for the Toscars in 2012. This week Jim was involved in a head-on collision and has suffered horrendous injuries including breaking his neck, one of his legs, a punctured lung, and fifteen broken ribs to name but a few. I have reached out to his wife Laura to see what help and support she needs during this difficult time, so I will keep you updated and put out a request if there is anything we can do as a group.  It is times like this that our community can be an invaluable source of support.
Stay safe and don't forget to change your clocks this weekend!
Cheers!
Eileen