Exclusive interview with author Sally Christie on her novel about the life of Comtesse du Barry, official mistress of king Louis XV
By Gabrielle Pantera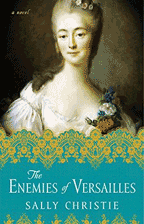 "I got the idea for the first book in the trilogy, The Sisters of Versailles, as I was trawling the web one night," says The Enemies of Versailles author Sally Christie. "I stumbled upon a picture of Louise, the eldest Nesle sister, and read her Wikipedia page. I was like… Whoa, this is a crazy story. Four sisters, all mistresses of the same king, both concurrently and sequentially. I was really surprised I had never heard of their story, as I knew quite a bit of French history. And, while I knew about Louis XV's more famous mistresses, I had never heard of these sisters and their early entanglements with this king."
In the third and last book of Christie's Versailles trilogy, Jeanne Becu, a woman of humble birth, but very beautiful, rises from the streets of Paris to the palace of Versailles. She becomes the Comtesse du Barry, and the king's official mistress. The king's daughters are horrified by the influence that du Barry has on their father. They want her away from the palace. The princesses use the dauphiness Marie Antoinette against du Barry. Little do they realize how the world is changing, that the French Revolution is almost upon them.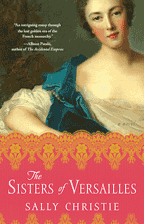 "After I submitted my manuscript, the very first question my soon-to-be agent asked me was, 'Do you have any ideas for books set around the same time period?' Basically, publishers aren't keen to invest in a new author with just one book. These days it's all about series and building characters and worlds. I wasn't originally thinking about the Marquise de Pompadour and the Comtesse du Barry as potential subjects, since I figured they had been written about to death. One of the key attractions of the sisters story [of book one] was that it is not very widely known in the English-speaking world. But, then I discovered there was no English-language fiction about either of them."
During her writing process, Christie made several research trips to France. She got a backstage tour of the palace of Versailles, away from the grand state rooms open to the public. She got to see some of the back alleys of the palace and the rooms where several of her characters had actually lived. She also visited Jeanne du Barry's chateau in Louveciennes. "The chateau still exists, in private hands," says Christie. "It was such a treat to walk in her footsteps and imagine her inside the elegant rooms."
Christie did a lot of her research online. "Google has a plan to put every single book ever written, that's out of copyright, on the Internet," says Christie. "They have done a wonderful job. Lots of obscure 18th century memoirs and biographies were available at the click of a mouse. So, I was able to do 90% of my research on my couch. Luckily, I am fluent in French, which I think was crucial for researching. I had to do a lot of digging and many of the sources have not been translated."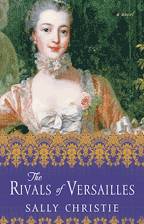 The Mistresses of Versailles trilogy are Christie's first books. She was nominated for a Kobo Award for The Sisters of Versailles. Kobo is the Canadian Kindle, and being nominated is based on quantifiable data, such as, what percentage of readers finished the book; how fast readers finished it, and how many pages they read per hour. The series has yet to be optioned for film or TV. The French BBC series Versailles is set in the reign of Louis XIV, the great-grandfather of king Louis XV. "If the producers decide to continue the story, and I think they should, into the next century and the next king, my books will be waiting for them," says Christie.
Christie says that after three years of very intense writing for three books she's taking a step back and thinking about my next project, but it will definitely be something historical.
Sally Christie is based in Toronto. She was born in England.
The Enemies of Versailles: A Novel (The Mistresses of Versailles Trilogy) by Sally Christie
Paperback: 416 pages, Publisher: Atria Books (March 21, 2017), Language: English ISBN: 9781501103025 $16.00
The Rivals of Versailles: A Novel (The Mistresses of Versailles Trilogy) by Sally Christie
Paperback: 448 pages, Publisher: Atria Books (April 5, 2016), Language: English
ISBN: 9781501102998 $16.00
The Sisters of Versailles: A Novel (The Mistresses of Versailles Trilogy) by Sally Christie
Paperback: 432 pages Publisher: Atria Books (September 1, 2015) Language: English ISBN: 9781501102967 $16.00