You haven't seen Beauty and the Beast until you've seen the cast of Disney's live-action movie out this Friday….or James Corden reimagining the iconic tale in a Hollywood crosswalk while narrowly avoiding oncoming traffic.
Oo-er!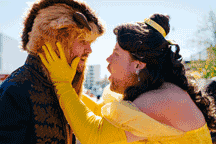 On Monday's Late Late Show, chat show king Corden cast himself in the role of Belle along with the film's stars Luke Evans, Dan Stevens and Josh Gadin, in his own production of the 'Tale as Old as Time.'
Little did they know James would be playing the lead and it would take place on a busy street outside the CBS lot in the heart of West Hollywood.
The British TV personality is clearly a huge Disney fan, otherwise he wouldn't have risked his life to put on the production. However, James took a little artistic license when he decided to cast himself, rather than Emma Watson, as 'Belle' in the sketch and the results were hilarious to watch!
Corden changed into Belle's ball gown to perform the title track – "Beauty and the Beast,"which brought tears to the cast members' eyes. Looking him up and down – and channeling Gaston – Evans said, "I would."
I have to say, James really gave Emma a run for her money in that last number, as he looked totally flawless in the iconic yellow dress while Dan twirled him around.
Stevens, who'd been apprehensive, was thrilled with the performance. "Oh, my God! I was wrong! That was incredible. That was the most invigorating thing I've ever done," he raved. "I crossed that road and on the other side was everything I love about theater…and a gas station."
After previously putting on productions of Grease, The Lion King and Phantom of the Opera, Corden was confident Beauty and the Beast would go down in history.
"People will say, 'Where were you when the Crosswalk Theater Company performed Beauty and the Beast?'" the late-night host imagined. "I'll say, 'Well, I was on Beverly and Genesee …running late for the dentist."
With Corden now America's most talked-about late night TV host, the uncertainty surrounding his 2015 debut seams far away.
"We never thought we'd hit the ground running as fast as we have. It's taken us all by surprise," the 38-year-old told The Radio Times this week.
And he believes the Late Late Show's concept in which viewers can watch segments at their convenience has been a big boost.
"Our plan with the show was to try and make something that could be enjoyed 24 hours a day.
Something that people could find on their phones or their desktops, on the train to work or in their lunch hour."
Of course his signature segment has been his wildly successful Carpool Karaoke which has lured stars such as Sir Elton John, Madonna, Adele and Mariah Carey.
However the father-of-two – soon to be seen giving the Take That boys a ride in his car for a Comic Relief Carpool Karaoke special – is cautious about overkill.
"We're aware it's not something we should do all the time – we haven't done it on the show this year, for example, because it will very quickly become not as exciting. We want to keep it in that rarefied air because the only way you'll get the biggest acts in the world to do it is by just doing it with the biggest acts in the world."