Aloha Britlings!
Greetings from Maui, an easy 5 1/2 hour plane ride from LAX. An island that is full of spotty WiFi. Which in reality is a blessing for those of us who are constantly switched on. At first it caused a little anxiety in my party, but after day one I realized it was a gift. A few family members were over to this side of the pond to celebrate my Mum turning 70.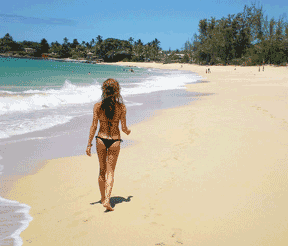 She arrived in style on Air New Zealand with my auntie Sue taking a bit of a turn on the plane and being rushed to a hospital in Marina Del Rey. She stayed over night and had suffered a bout of dehydration (so remember when flying to drink LOTS of water.) Luckily she had insurance or that one night stay may have turned into a $70,000 price tag. (And I thought I was the only drama queen in the family).  The Maui trip was a surprise for them. So clearly we had to spoil it so we could all get her out of he hospital and rush her back on a plane where a bottle of water never left her hand. Upon landing my fiancé Michael got them all lei'd  (a flowered necklace that is a Hawaiian tradition of welcome). We stayed at the house of my friends Shane and Silvio near Paia. Otherwise known as a little piece of paradise. An acre of land with lush green plants and a sliver-view of the Pacific through the topiary. We were woken each morning by the roosters in the garden and the bright, beautiful sunshine. The house has its own water tank and solar panels for electricity. It taught us how to be frugal with the showers, but after day two we were embracing the 'Bear Grylls' lifestyle. The beaches here are some of the world's best, especially Baldwin Beach, which has trees for shade and high tide that slaps on the shore, making for hours of entertainment, body surfing and jumping over the high waves.
But a cooling breeze can be deceiving in the hot sun…as a few of us in the party discovered with drastic sunburn on day two. And as Eric Idle almost put it, we know the majority of us Brits veer towards an unhealthy red lobster color because we 'overdid it on the first day'. The other beach we tried was at the Andaz  Hotel in Wailea. (A tip: if you have lunch poolside you can use their beach and pools – which are stunning, designed as a series of cascading waterfalls).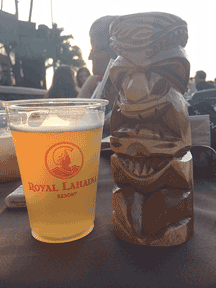 We ate fabulously well on Maui, some of our favorite eateries were Mama's fish house on Hana highway. Expect spectacular flavors and great cocktails. And don't miss Makawao Steak house which is affordable and has a great old town pub atmosphere. Of course you can't come to Hawaii and not partake in a luau. Lahaina Royal Luau on the island's northwest coast was everything we had hoped, from dancing, singing and fire dancing, plus plenty of history about these amazing islands. It was $125 per person but included a delicious buffet and all the drinks you could chug down. And being with my British family….that was a lot!
The final day we took a two-hour whale-watching trip with Boss Frogs ($20 per person) from the lovely historic harbor in Lahaina. This was a spectacular trip, since none of us had ever seen humpbacks before. It was educational, thrilling and best of all, they serve a $3 Mai-Tai. Needless to say we needed a little help getting off the boat when we came back to shore.
A big Mahalo to the people of Maui for making us feel so welcome. I think the most magical thing about the island is that time seems to stand still as four nights seemed like two weeks. This is an island that welcomes loose clothing and bare feet. No need to take your fancy clothes, that's for sure.
Back in LA now. What did I miss?
Till next time!
Craig Young