Acclaimed Britis play 'Punk Rock' makes LA debut at the Odyssey
As seven teens at an English prep school tangle with the pressures of love, sex, bullying and college entrance exams, the confusion, disconnect and latent savagery simmering beneath the surface is revealed. They are intelligent, articulate and accomplished — the cream of the crop turning sour.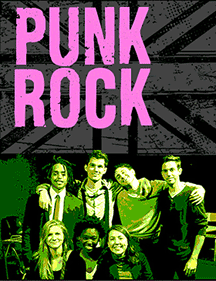 At least that is the premise of Punk Rock, a highly acclaimed play from Simon Stephens having its Los Angeles Premiere Odyssey Theatre Ensemble this weekend.
Based on Stephens' experiences as a teacher and inspired by the 1999 Columbine shooting, Punk Rock premiered at London's Royal Exchange in 2009, then transferred to the Lyric Hammersmith. The play opened off-Broadway in 2014 at the Lucille Lortel Theatre in an MCC Theater production that Ben Brantley of The New York Times called "tender, ferocious and frightening."
Set in the library of a modern Stockport grammar school, it tells the story of various angsty adolescents as they flirt, bully and pontificate their way through their A-level mocks.  The play was hugely well received when it made its London debut in 2009. The result is a play that is "powerful and compelling" according to the Independent's Michael Coveney, and which "evokes the twilight world of the teenager with scary vividness."
Simon Stephens is an associate artist of the Lyric Hammersmith and the Royal Court Theatre in London. His many other plays include Carmen Disruption; Heisenberg; Birdland; Blindsided and Three Kingdoms. His version of A Doll's House for the Young Vic transferred to the West End and then New York. His new translation of The Threepenny Opera ran last fall at the National Theatre. His other plays for the NT include Port, Harper Regan and On the Shore of the Wide World, which received the Olivier Award for Best New Play. His stage adaptation of Mark Haddon's novel The Curious Incident of the Dog in the Night-Time received both the Olivier Award and the Tony Award for Best Play.
Punk Rock's cast of young newcomers features Jacob B. Gibson, Zachary Grant, Nick Marini, Raven Scott, Kenney Selvey, Story Slaughter and Miranda Wynne.
Performances of Punk Rock take place March 25 through May 14 on Fridays and Saturdays at 8 p.m. and Sundays at 2 p.m. Additional weeknight performances are scheduled on Wednesday, April 12; Thursday, April 27 and Wednesday, May 3, all at 8 p.m. Tickets are $34 on Saturdays and Sundays; $30 on Fridays; and $25 on Wednesdays and Thursdays, with discounted tickets available for students and members of SAG/AFTRA/AEA.
The Odyssey Theatre is located at 2055 S. Sepulveda Blvd., West Los Angeles, 90025. For reservations and information, call (310) 477-2055 or go to OdysseyTheatre.com. Recommended for mature audiences: graphic language and violence.