Meet Natalie Frost from London who moved to LA from New York just over a year ago to pursue acting.
Was there a particular reason you chose LA?
I think it was a combination of reasons; I've trained and worked in the theatre for so long, and it will always be my passion. Before the move to LA, I played Clare in the world premiere of Martin Casella's 'The Report' in New York. Being part of such a wonderful production, and telling such a powerful story is the reason I wanted to be an actor in the first place. But I got to a point in my career where I wanted to explore opportunities in film and TV, and there didn't seem a better place than LA to do that.  It's always been a city that has fascinated me, and when I eventually did visit for the first time, it was like a breath of fresh air. Three months later I moved over. I can be very impulsive like that…the weather helps too! I moved here from New York and those winters were really starting to take their toll; they can be brutal!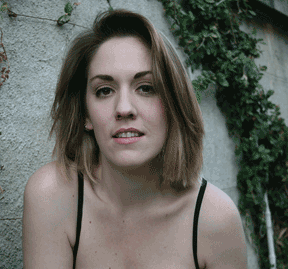 What do you miss most from home?
I've lived all over the world. Even though I was born in England, I was actually raised in Dubai, which is where my family are based now. I have lived in London, New York, and travelled all over with theatre productions. I don't really have a physical place that I call home; for me home has always been where my family are, and I do miss them a lot. It's a great sacrifice to leave your family behind to pursue your dreams. We are all very close and see each other when we can but that distance can definitely be hard at times.
What was your first impression of LA and has it changed since? If sowhy?
I fell in love with LA within 24 hours of landing. I did have the concern that it might be too relaxing a place to live; it seemed at first that it might be easy to get distracted from the reason that brought me here in the first place. But now I feel that there is this energy in this city that can really drive you forward…if you know how to use it! I've been lucky enough to surround myself with some incredibly inspiring people who are constantly creating and working towards something great. It's a powerful energy to feed from and I count myself very lucky to be here doing what I love, around others doing the same.
What do you find the biggest difference is living here versus London or New York?
There is a much more relaxed vibe to this town than I'm used to, especially compared to most recently living in New York. It's very refreshing but it can definitely take some time to adapt. I've found that although plans in LA can often be vague and changed at the last minute, this place can also be wonderfully spontaneous! I've had some experiences here that I don't believe would or could happen anywhere else. There is also much more of an outdoors lifestyle available here than in a more urban city like London or New York; I live here with my gorgeous German Shepherd Karla, and being able to take her on hikes, and to dog parks, and to the beach is something you just couldn't really do in New York. We both love that about LA!
Do you have a hidden gem in LA that you want to share with us?
I have many gems but I'm not sure how many of them are hidden…Bronson Bar on a Monday night is a guilty pleasure. It's a perfectly dingy dive bar, with the greatest bartender in the world and karaoke all night. It's a lot of fun! The Village Idiot on Melrose is a must for all the Brits who miss their fish and chips, and full English breakfasts. Gracias Madre is my absolute favorite for a good margarita fix too! Their happy hour is fantastic and if it's a nice day their outdoor area is lovely.
What would you suggest to others who are thinking about making the move here? 
I would say if you are thinking about it, you should probably just do it! Wherever it is you're leaving from, it will always be there if you ever want to go back. I would also advise to downsize massively; I've experienced no greater nightmare than dealing with movers to cart all my pointless belongings from the East Coast. It was expensive and stressful. And I wish someone had told me just to pack a suitcase and start afresh. That's what I would suggest. Oh, and be open! To everything! This is a great city of possibility if you're open to it!
Lots of our members join our group Brits in LA seeking out words of wisdom – what is the best piece of advice you've been given? 
I get most of my advice from my mum or best friend Olivia, they always know what to say. They've both always advised me to be bold, and surround myself with good kind people. I think that's important, especially when moving to a new city. And be confident that it will all work out! 'It'll all come out in the wash' as my mother says…
Lastly, how can we find out more about you? Are you working on anything at the moment?
I'm currently in post-production for my web-series 'The Victorians', which I co-wrote, co-produced, and starred in. It's a six part comedy mockumentary and is set to be released this year which I'm very excited about, so definitely keep an eye out! You can also find me on my website, www.natalie-frost.com