David Beckham shocked his army of loyal fans earlier this week after posting a picture of his face showing deep jagged facial scars from his temple to his cheek and a set of rotting teeth.
Oo-er!
Showing off his new teeth in the pic, the 41-year-old heartthrob, famous for his good looks, snarled away from the camera, clearly impressed with the lairy look.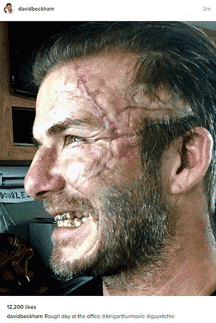 He captioned the shot: "Rough day at the office @kingarthurmovie @guyritchie," the father of four wrote of the snap, revealing massive makeup scarring on the side of his face, as well as a yellowing smile.
According to reports, the star will play a disgruntled knight who is unable to pull Excalibur from the stone in King Arthur: Legend of the Sword, the latest retelling of the Camelot legend from Lock Stock And Two Smoking Barrels director Guy Ritchie.
Set to be released on May 22, King Arthur stars Sons of Anarchy alum Charlie Hunnam in the title role with Eric Bana, Jude Law and Djimon Hounsou co-starring.
Beckham is known to harbor some thespian ambitions and previously appeared in 2015's "The Man from U.N.C.L.E."
But the star has admitted he's expecting criticism over the role.
"I am very aware that many sportsmen and other celebrities have turned their hand to acting and failed," he told the Times.
Details surrounding Beckham's cameo are still unknown, but IMBD lists his role as "Blackleg Leader".
     Which is a bit of a comedown from GoldenBalls – if you ask me!