Exclusive interview: author Kathy Lynn Emerson discusses her new mystery novel and how pirates came to be in the Mistress Jaffrey Mystery series
By Gabrielle Pantera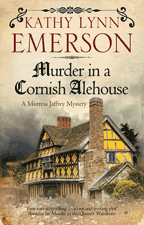 "Murder in a Cornish Alehouse was originally planned as the fourth Mistress Jaffrey Mystery," says author Kathy Lynn Emerson. "In early 2015, when I sent my publisher a proposal for the third book in the series, I added a sentence to the end, something along the lines of, 'In her fourth adventure, Rosamond Jaffrey will go to Cornwall and there will probably be pirates.' When the offer came through from Severn House, it specified that they wanted the Cornwall book first. At that point, all I had was 'Cornwall' and 'pirates' but it didn't take long for a plot to evolve from those two very evocative words."
In Murder in a Cornish Alehouse, it's June 1584. Mistress Rosamond Jaffrey travels to Cornwall where her stepfather Sir Walter Pendennis has died suddenly. She hopes to mend the rift with her mother and to ensure her half-brother Benet gets his inheritance. Benet is only eight years old which puts him in danger of becoming a ward of the crown, who will likely sell the wardship to the highest bidder. Rosamond, who's wealthy in her own right, decides that she'll have to purchase it to protect the family interests
On arrival she discovers Sir Walter didn't just die. He was murdered. And because Sir Walter worked for Sir Francis Walsingham, often dubbed Queen Elizabeth I's 'spymaster' Rosamond quickly decides there is more to his death than meets the eye. Rosamond has to work with Walsingham's agent to find the killer, even if she uncovers smuggling, piracy and possibly treason. Their investigations lead them to other deaths, a conspiracy that may involve pirates, and the involvement of papist families living in the surrounding area of Cornwall. Rosamond's ability to speak Cornish is a big help in questioning the tight-knit locals, who are reluctant to assist in the investigation.
Emerson says her original inspiration for the book was a visit to Cornwall back in 2001. "Aside from visiting locations in person, I read everything I could find that related to Tudor Cornwall, Elizabethan alehouses, the system of wardship in England, sixteenth century pirates and smugglers, and a real plot against England that involved pirates, Lundy Island, Ireland, and spymaster Sir Francis Walsingham's stepson."
"There was no need to view original documents when there are so many well-researched secondary sources available," says Emerson who maintains a series of over 2,000 mini-biographies of Tudor women online under the title, A Who's Who of Tudor Women. "These real women often inspire characters in my novels."
Emerson consulted an expert on sixteenth-century sailing ships and piracy. "What makes him an expert?," says Emerson. "He spent a year aboard a replica of The Golden Hinde." (which is of course, the ship in which Sir Francis Drake circumnavigated.
Murder in a Cornish Alehouse is Emerson's 55th published book. Emerson has written fiction and nonfiction under several different names. As Kate Emerson she wrote six non-mystery historical novels set in the sixteenth century. In 2008 Emerson won the Agatha Award for nonfiction for How to Write Killer Historical Mysteries: The Art and Adventure of Sleuthing through the Past.
Emerson is working on the fourth Mistress Jaffrey novel, Murder in Colchester Gaol. As Kaitlyn Dunnett, she's writing Crime and Punctuation, the first book in a new series to be published by Kensington Books in 2018. The next book in her Liss MacCrimmon series, X Marks the Scot, will release in December from Kensington. She is under contract for two more. Different Times, Different Crimes, a collection of her short stories written as Kathy Lynn Emerson, is coming out in the spring from Wildside Press.
At the end of April Emerson will be at Malice Domestic in Bethesda, Maryland, in June at the Historical Novel Society U.S. Conference in Portland, Oregon.
Emerson lives in the rural mountains of western Maine. She was born in Liberty, New York.
For more on Emerson's online presence, visit www.KathyLynnEmerson.com,
www.KaitlynDunnett.com or www.KateEmersonHistoricals.com. Her Facebook account is under the pseudonym Kaitlyn Dunnett.
Murder in a Cornish Alehouse: An Elizabethan Spy Thriller (A Mistress Jaffrey Mystery book 3) by Kathy Lynn Emerson. Hardcover: 240 pages, Publisher: Severn House Publishers; First World Publication edition (April 1, 2017). Language: English. ISBN: 9780727886767 $28.99