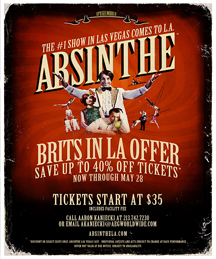 Some of us Brits love a little vulgarity from time to time, especially the northerners amongst us. So I was wonderfully shocked and surprised when I went to see "Absinthe" at LA LIVE. The production is a variation on the Vegas show, some elements remain but with a few new acts thrown in. Playing in the roof of a car park in downtown LA. this politically incorrect show will have you wowed, rolling with laughter and gasping and what comes next. Absinthe is to Cirque du Soleil, as Toscars is to the Oscars. A nonsensical fun parody, that's a little bit rude, (okay, a lot rude!) The setting is a cross between a circus and nightclub, with cocktail servers plying you with drink while the MC gets rowdy with the audience. One of my favourite routines was the roller skating pair. What they can do with their bodies is truly remarkable and nail biting to say the least: all in all it's a really great night out and we've managed to secure heavily-discounted tickets for our readers at just $35 – see the ad on the page for details. Absinthe it's only here for a ten-week engagement, so don't walk, run…(or skate!)
I was up in Sonoma last weekend to do a bit of a wedding scout, and think we've found the perfect place. The town is an easy one hour and 15 minute plane ride up the coast and extremely picturesque, boasting fresh air, rolling hills, wineries and one of the best culinary experiences I've ever had at a farm/hotel/restaurant called SingleThread. My taste buds are still tingling at the thought of all the great food. Anyway there are three daily flights to Santa Rosa from LAX and lots of cute bed and breakfasts or airbnb locations. Go check it out one weekend, you won't be sorry.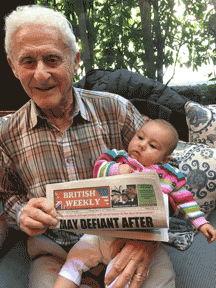 We love to see new faces at the our weekly British Breakfast Club and this week were were able to say hello to tiny Charlotte, just three months old and I think perhaps the youngest we've had at the BBC. He is pictured here with our mayor Bernard. She is a smiler and so adorable. Remember all ages are welcome. The event happens every Tuesday at from 9.30 am at Cecconi's restaurant at the corner of Robertson and Melrose in West Hollywood.
We try to keep plenty of screenings, concerts and other activities on the roster for our members, but some of the best deals are available only to key members. If you are interested in joining email us: britsinla@gmail.com.
Local Brits waiting for the reopening of one of LA's most iconic pubs will have to wait a bit longer. The Cat & Fiddle, which shuttered its doors back in December 2014 after almost 30 years on Sunset Boulevard, has found a new home on nearby Highland Avenue at the site of the old Mud Hen's Tavern. But a little birdie told us that permit issues are delaying the opening for a few more weeks……patience is a virtue, so I'm told, and when the doors do open, we are certainly looking forward to checking it out.
And finally a little selfish plug, I have a little role on the show NCIS this coming Tuesday on CBS. If you want to check it out….don't blink!
Have a great week all and I hope to see you at one of our events.
Cheers!
Craig Young