Lady Victoria Hervey braved the cold in Iceland earlier this week to take a dip in a bikini.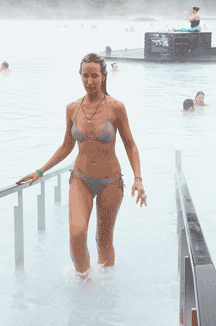 The model and socialite has been spending time in the chilly country to take part in a series fashion shoots and runway shows.
But the work had obviously taken its toll, as she clearly needed some down time opting for a spa day.
After hitting the catwalk for the RFF Reykjavik Fashion Festival for clothing label InKLaw, the 40-year-old LA based Brit headed for the country's famous Blue Lagoon.
Despite the cold air, the therapeutic geothermal spa helped keep Lady Victoria warm, as she slipped out of her toweled white robe to take a dip in a grey snake print bikini.
This one was as skimpy as ever, and showcased her slim physique, flat stomach and toned pins.
The fashionable, taupe-colored top half was joined in the middle, underneath her bust, with a gold ring feature.
Stepping into the water, she showed off her enviable washboard stomach and toned limbs – which drew quite a few admiring glances from her fellow bathers.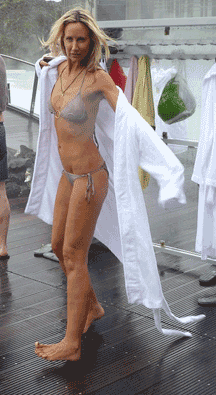 After taking a dip Lady Victoria made a quick dash for her white robe to get warm again as she continued with her day of relaxation.
I reckon Lady V looks rather hot in the cold… (smirk).