This week James Bond bosses have ruled out Tom Hiddleston as the next 007 because they say, he's "a bit too smug".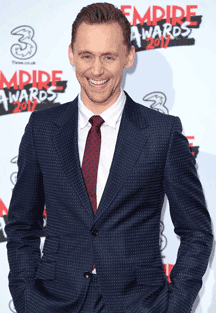 And I couldn't agree more!
The Night Manager actor had been the hot favorite to replace Daniel Craig in the iconic spy role so this must come as a big disappointment for the old Etonian.
According to insiders, a string of "embarrassing" stunts seem to have cost him the job,
A pal of Bond producer Barbara Broccoli revealed: "Barbara doesn't like Tom, he's a bit too smug and not tough enough for Bond."
She was also apparently neither shaken nor stirred by Tom's fling with Taylor Swift, not his cringe-worthy Golden Globes acceptance speech a few months back.
The British actor left the star-studded audience decidedly underwhelmed as he related a long-winded story about aid workers in South Sudan who wanted to "say hello (to him) because they had binged-watched The Night Manager".
Hiddleston later apologized that his speech was "inelegantly expressed" – but Broccoli's pal said it had made him seem "too fame hungry and shallow" to play Bond.
But whoever takes over the 007 role may have to wait. Craig, who has starred in the last four Bond movies, is in talks with Broccoli about a fifth – despite earlier saying he would rather "slash my wrists" than reprise the role.
When asked who might take over, he also said: "Look, I don't give a f***."
But now Broccoli is said to have talked him into staying on as Bond after working with him on a recent New York stage production of Othello.
A source said: "They have a script and will go into production as soon as Daniel is ready to commit."
     Daniel is still my hot favorite to return to the role….and I hope he does!