Exclusive interview: Author Samantha Vérant talks about her new memoir and learning how to become a family
by Gabrielle Pantera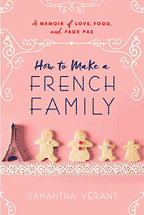 "How To Make A French Family was inspired by all the changes I faced while becoming an instant immigrant stepmom," says author Samantha Vérant. "How I overcame very frustrating obstacles, like learning to parent in a language in which I only had limited skills and adapting to cultural differences."
"My first memoir, Seven Letters From Paris, was the fairy tale romance of how I rekindled a relationship with Jean-Luc, a sexy French rocket scientist, twenty years after we'd initially met," says Vérant. "How To Make A French Family, my latest memoir, picks up where Seven Letters left off and grounds our relationship into reality. I became an immigrant, and, more importantly, an instant American stepmom to Jean-Luc's two children, ten-year-old Max and thirteen-year-old Elvire."
Newlywed Samantha couldn't wait to move to France with her new husband Jean-Luc, to be with him and his teenage kids. But once there, life is not what she thought it wound Samantha works to make her French fairy tale come true. There are culture clashes, faux pas, heartwarming moments in this memoir of a family learning how to become one.
"Sadly, all the language faux pas I make in this book are true," says Vérant. "All of the research comes from real life experiences."
For research, Vérant reviewed pictures of her family. "I take a lot of photos. Since this book takes place from 2010 to 2013, I referred to the photographs to refresh my memory."
When Vérant first started writing, she wrote for middle grade and young adult readers. Month9Books published her middle grade novel, King of the Mutants, about a sideshow attraction on the search for his identity. That was published one week after Seven Letters From Paris hit the shelves. Since then, she's focused on books for women.
Barnes & Noble featured Seven Letters From Paris recently under Fascinating Life Stories. Seven Letters has released in twelve countries. So far, four countries have picked up foreign translation rights for How To Make A French Family. Seven Letters is under option by a Hollywood studio, with first rights of refusal for How To Make A French Family.
Anna Michels at Sourcebooks is Vérant's editor. "She picked up my first memoir, Seven Letters, out of the slush pile in June of 2012," says Vérant. "Shortly after reading my submission, she made an offer for publication. Since then, I haven't looked back."
Vérant is currently working on women's fiction focusing on food, wine, and France. Upcoming book signings include the Santa Monica Barnes & Noble and maybe Chicago.
Vérant lives in Cugnaux, a small town south of Toulouse in southwestern France. She was born in Los Angeles. Her website is: www.samanthaverant.com
How to Make a French Family: A Memoir of Love, Food, and Faux Pas by Samantha Vérant. Paperback: 336 pages, Publisher: Sourcebooks (April 4, 2017), Language: English. ISBN: 9781492638490 $15.99