Interview with author Melanie J. Fishbane, about her new novel inspired by the life of L.M. Montgomery, the author of Anne of Green Gables
By Gabrielle Pantera
"I've always wanted to write historical fiction, particularly for young people," says Maud author Melanie J. Fishbane. "It is what I studied when I did my M.A. in History. I've also been reading and studying the life and work of L.M. Montgomery since I was in grade six, when I first read Anne of Green Gables. When the opportunity to write a young adult novel based on Maud's teen years (arose), it was the perfect symmetry of my favorite things. This part of her life has also rarely been explored, so it felt like I was stepping into new territory, which for me is very exciting."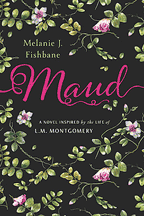 Fourteen-year-old Lucy Maud Montgomery lives with her grandparents on Prince Edward Island in Canada. She has a dream to go to college. She wants to become a writer just like her idol, Louisa May Alcott. But she worries that her dream will never come true. Her grandfather believes women should not go to college. Bt Maud has an a teacher who believes in her, as do her friends, including Nate, the local Baptist minister's stepson. Maud's father sends for her to go out West to join him and her new stepmother and step-sister. At her new school, Lucy meets another boy who she could love.
"Once I embraced my interest in Montgomery, many opportunities presented themselves," says Fishbane. "To meet a community who studies and reads her…to give talks for a variety of organizations and at conferences." She also visited the set of Anne of Green Gables and interviewed the actors. She went to the world premiere of the CBC/Netflix ANNE TV show. Fishbane says she couldn't be happier to feel like the world is embracing Montgomery right now.
Montgomery has published over 20 novels, 530 short stories, 500 poems, and 30 essays.
She's best known for her Anne Of Green Gables series. The series centers on Anne Shirley, an orphan girl mistakenly sent to siblings Matthew and Marilla Cuthbert to help on their farm. Matthew likes having the effervescent Anne around and convinces Marilla to keep the girl.
Fishbane visited the L.M. Montgomery Collection Archives and Special Collection at the University of Guelph in Ontario. She read Montgomery's journals, perused her photographs and personal library and artifacts, including Maud's mother's Commonplace Book and a photocopy of Maud's copy of Little Women.
"I traveled to the places where Maud (as Montgomery was commonly known) lived," says Fishbane. "Such as Prince Edward Island, Prince Albert, Saskatchewan, and the three places she lived in Ontario: Leaskdale, Norval,Toronto In Cavendish and Park Corner, PEI. I interviewed Maud's relatives and explored the sites of the places where she once lived."
She also went to the L.M. Montgomery Institute where she read the original letters Maud had written to her best friend growing up, Pensie MacNeill.
"In Prince Albert, by using old homestead records at the University Archives Special Collection, University of Saskatchewan, a colleague and I found the original location of where Maud's friends, Laura and Will, had lived," says Fishbane. "We also drove around with a local historian who volunteers with the Prince Albert Historical Society, who pointed out the old parts of the town, such as where Maud lived with her father. Many of the houses are no longer standing, but it gave me a sense of the town. I read every book I could find on Maud and her times, including a history of PEI, a local history of Prince Albert, and Saskatchewan, as well as a book on Indigenous peoples in Saskatchewan."
Fishbane will be at the book launch in Toronto on May 2nd at Ben McNally Books. There's another book tour event the same week in Charlottetown, PEI. Then during the summer, events in Leaskdale Ontario. For more on the author, visit www.melaniefishbane.com or facebook.com/MelanieJFishbane.
Maud: A Novel Inspired by the Life of L.M. Montgomery, by Melanie J. Fishbane. Hardcover: 400 pages. Publisher: Penguin Teen (April 25, 2017). Language: English. ISBN: 9780143191254 $17.99