From James Corden and One Direction to the Beckhams and the Osbournes, Brits are flooding to Hollywood and are doing rather well on American shores.
British journalist Claire Bullivant – who relocated to Tinseltown ten years ago was musing this over in a pub on Sunset Boulevard with British broadcaster Caroline Feraday – when the pair came up with an idea to create a podcast which tapped into their British perspectives on La La land.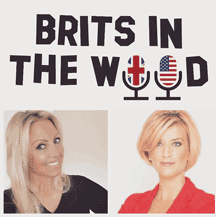 They launched the 'Brits In The Wood' podcast last month (March 2017), to already critical acclaim and thousands of downloads.
'I can't believe the response we've had so far,' says Caroline, who is best known for her radio shows on Capital FM and BBC radio in the UK.
'We really hope people enjoy what we're doing. We love America and especially love LA. You guys are so welcoming to us Brits. We hope we give a little insight into LA life and show the world what an amazing place it is here,' explains Claire.
Caroline, who left her popular BBC radio show behind to move to LA in 2013 says: 'I always say it's like popping on Brit-tinted spectacles and then looking at Hollywood through our eyes. That's the journey we take our listeners on. Claire's been here ten years and absolutely loves LA. I am a little more cynical. I love the weather and the people but the traffic could be better,' Caroline laughs.
The podcast, which has already been picked up by iTunes, Stitcher and Google Play, has already featured big name guests including Spandau Ballet lead singer Tony Hadley, a former Miss Great Britain and well known model – Leilani Dowding, Vikings actor Huw Parmenter and Billy Idol's right hand man – rocker and artist Billy Morrison.
Claire says there's many more in the offing: 'Our very first podcast, where we interview Billy Morrison (the Cult, Billy Idol, Royal Machines) kind of made us realize we were on the right track. Billy really opened up to us and talked about his near death experiences with drugs and overcoming addiction. He's now one of the most famous rockers in the business who has some great stories about Ozzy Osbourne, his best mate. It's fascinating to hear about his journey. It's a real rags to riches story too and something you don't normally get to hear in normal interviews where stars are just promoting their latest project. We're after their life story really… in an hour [laughs]. Hopefully we get some of it.'
Caroline continues: 'It's a lovely inclusive mix of irreverent and insightful. In fact, recent guest, British director Elliott Lester, commented how we put our guests at ease, so we get such a great conversation with them. I think people enjoy hearing a bit of classic British "banter,"' she joked.
Claire and Caroline say that they hope they offer inspiring insights, a bit of laughter and an entertaining and informative hour for listeners – and are already building up a fast fan-base.
'It's not only for Brits, or for people in LA. We are both journalists so are naturally inquisitive about people with interesting tales to tell, and think we have a unique perspective to ask them pertinent questions and throw in a few tales of our own.'
From celebrity names to industry insiders, they say they discover what it takes to live the dream and make it in LA by talking to those that have done just that, and those are universal themes.
To listen, visit britsinthewood.libsyn.com