This weekend, witnesses claimed to have seen British film star Tom Hardy chase down two teenagers who were running away from a crash scene involving a stolen moped.
Ooo-er!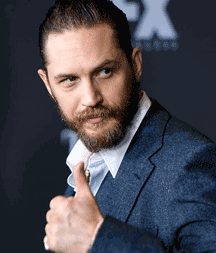 According to witnesses, Tom was strolling down the leafy avenues of Richmond, the posh West London suburb beloved of bankers and celebs, when he saw a moped ridden by the two teenagers crash into a car. The pair immediately legged it from the crash scene, causing the beefy star to "switch into superhero mode" and charge off in pursuit. One witness said Hardy chased the pair down street and into a neighboring garden before nabbing them.
"Tom must have been walking down the road. He went off like a shot in pursuit and looked furious," a witness told The Sun after seeing the teenagers run a red light and crash into a $50,000 Mercedes.
According to the witness, once the pursuit came to a halt, Tom said, "I caught the c–t." Tom later yelled, "This little s–t nicked something and now he's got himself a broken leg."
The Scotland Yard did not mention Tom or a chase, but in a statement Tuesday, a spokesperson confirmed that "the rider of the motorcycle was detained by a member of the public in Church Road and then arrested by officers on suspicion of theft of a motor vehicle and being disqualified from driving."
The other boy was detained nearby by the police.
The pair have since been released.
Tom, a movie star known for his roles in action films like Mad Max: Fury Road, The Revenant and The Dark Knight Rises, has yet to comment on the Hollywood-style chase.