Some of you may already know that April 25th is now officially LA-LA Land Day in Los Angeles.
Every year moving forwards residents will celebrate the madness, creativity and vibrance of this city and its occupants. We were fortunate enough to have some great people join us this week during breakfast club at Cecconi's in West Hollywood for the inaugural celebration. Together with Lionsgate we celebrated the DVD release of the film, the (not) best picture at this year's academy awards. Firstly we gave away twenty breakfasts to members who posted a picture via Instagram with the #britsinla and #lalaland, that best depicted their LA Life. The winners were invited to breakfast with a guest and each received a vinyl copy of the movie soundtrack. We also drew a raffle, where CDs, DVDs and a poster by signed by the movie's stars, Emma Watson and Damien Chazelle and singer/songwriter and all around Legend….John.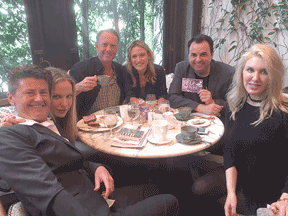 We also enjoyed the company of Bernie Greene, our outgoing deputy Consul-General, who is leaving us next week for pastures new. She has been absolutely brilliant for our community these past 3 1/2 years and we are genuinely lucky to have had her with us for this time. I'm sure you will join me in wishing her bon voyage and an abundance of luck in her new position. Bernie is pictured (right) with BiLA members Sandro Monetti, John Mawson, Erin Gavin, among others.
Early this week, fellow BiLA member Marina Paganucci and I visited the venerable British Home in Sierra Madre, to see the great work they are doing. Founded in 1909, this wonderful institution was originally set up to help retired nannies who had moved over to the US from Britain, had worked their lives for other families and had no where to go, when all was said and done. We sat down with residents Doris from Yorkshire and Donna who was born in Glendale, but whose parents were British. We were also captivated by a wonderfully spritely 108-year-old named Sophie, who told me the secret of her longevity was to not eat fish. Go figure!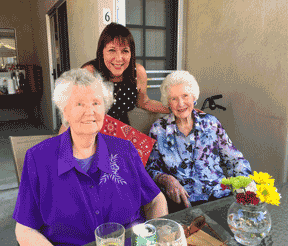 The British Home is a 501 (c) 3 Non Profit, and so relies heavily on grants and donations to keep the costs down for the residents. After a tour of the cottages, both myself and Marina joked, when can we sign up? These residents are very well cared for, but need more. Their annual summer fete is on June 3rd on the grounds of the home and is free, so please come along and join us, meet some of the locals of Sierra Madre and the staff and residents.  The UKares foundation will be making a sizable donation to the home, in order to help them fix some of the old concrete on the grounds, to make it smoother and safer for the elderly to get around. They are also looking for volunteers, especially singers, entertainers and magicians, to go visit. Get in touch with me at cyoung@ukares.org and I'll get you in touch with the right people.
Hope you all have a great week!
Much Love
Craig Young