Breaking News : A 95 Year Old Plans to Retire (but not until he is 96)! 
Speculation and scaremongering appear to be terribly fashionable at the moment.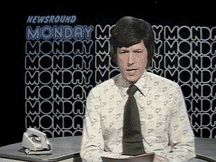 This past Wednesday evening the British Weekly office in Santa Monica received several calls from local news organizations asking for comment on Prince Philip's 'death'. Turns out a lone French rag had reported the death of a certain outspoken nonagenarian and the local hacks were jumping on the story, hoping to splash it on the 11 o'clock news with some local perspective. One even asked our editor if Brits felt Prince Charles was 'ready' to ascend to the throne!
So the story vanished like a damp squib when it turned out Philip was simply retiring from public view, but it remains astonishing to me how many journalists manage to spin a story using this technique. Whether the topic is Brexit aftermath, Buckingham Palace announcements or what Johnny Depp might do next (or possibly did already), it usually turns out to be a just a load of waffling codswallop. What has happened to good old fashioned reporting of facts? Or waiting for a moment to get the actual story?  I am having great difficulty finding 'just news'.
I usually rely on LBC radio but it seems they too have caught the 'sensationalism sells' bug. So if any of you out there have good resources please do send them my way. If not we might have to start a petition to bring back John Craven as presenter of Newsround, or perhaps my memories of his 'fair and balanced' reporting are overshadowed by childhood nostalgia…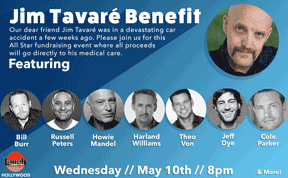 Anyway, enough of my babbling…let's get to the facts! The Laugh Factory in Hollywood are hosting a benefit for fellow Brit in LA Jim Tavaré, who recently suffered horrific injuries in a near fatal car accident. They have announced an impressive line-up for this May 10th show, so show your support and grab your tickets asap. Visit laughfactory.com or use this link https://goo.gl/qie9B9.
I know many of our Key Members are attending a sneak preview of the new Guy Ritchie flick 'King Arthur: Legend of the Sword that night, so if you can't attend you can still make a donation or leave words of support via GoFundMe at www.gofundme.com/JimTavare.
Competitions! We have tickets to give away for Matthew Bourne Early Adventures at The Wallis in Beverly Hills – if you want to win a pair to the first performance on May 17th email us at info@britsin.la. The winner will be notified by email on Wednesday May 10th at noon.
Goldenvoice have given us a pair of tickets to see English singer-songwriter Barns Courtney with FoxTrax at El Rey on May 9th – enter via email at info@britsin.la and we will let you know if your luck is in on Monday May 9th at noon.
Follow us on Facebook @BritsinLA for other chances to win. Up for grabs next week are tickets for Lewis Del Mar and UB40.
Break a leg!
Eileen