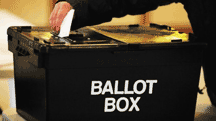 WITH A General Election coming up in the UK we've been getting inquiries from readers about their eligibility to vote. Thanks to the magic of the internet the process is actually simpler than you might think, but Brits who have been on American shores for 15 years more are out of luck, you are excluded under the so-called 15 Year Exclusion Act.
For the rest, you can still vote provided you apply to be an overseas voter. The criteria is simple, you must have been registered to vote in the UK in the last 15 years. If you were too young to register when you left the UK, you can still register as an overseas voter. You can do this if your parent or guardian was registered to vote in the UK, as long as you left the UK no more than 15 years ago.
An overseas registration lasts 12 months and you must renew your registration each year, and will be reminded to do so by your local Electoral Registration office.
If you have renewed your registration and it will last until after 8 June 2017, you are registered as an overseas voter. You do not need to register to vote again.
If you voted as an overseas voter in last summer's EU referendum and your registration has not expired (and will not expire by 8 June 2017) you will be able to vote as an overseas voter on 8 June. You do not need to register to vote again. If your registration will expire before 8 June and you have not renewed it, you should do so as soon as possible. Otherwise you may not be able to vote.
If your registration has expired, you will need to register to vote again, which you can do by visiting gov.uk/register-to-vote, but time is short, you must register by Monday, May 22nd. If you have other questions or need clarification, you can find useful information at the following website: www.yourvotematters.co.uk/can-i-vote/overseas.