Exclusive interview: author Kelly Bowen talks about her gaming hell romance novel
By Gabrielle Pantera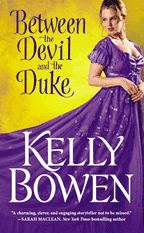 "The hero in this book, Alexandre Lavoie, is introduced in Duke of My Heart, the first story in this series," says Between the Devil and the Duke author Kelly Bowen. "The original idea came from the TV series Scandal, of which I am a huge fan. I loved the idea of clever, strong women who could think on their feet, and who don't hesitate to look for solutions outside the box. Additionally, I love to write characters who don't quite fit any particular mold, and the unconventional skills that they bring to the table are always fun to work with."
In Between the Devil and the Duke, Angelique Archer is desperate. She thought Lavoie's club was the perfect way to make some money. She gets caught counting cards by owner Alexander Lavoie. He offers her a job, to work for him at the club. Angelique is intrigued, but wary. What is he after?
"This book is the third in my Season for Scandal series," says Bowen. "Which features the fictional firm of Chegarre & Associates. When the rich and famous of Regency-era London find themselves embroiled in scandal they need to manage or make disappear, they hire the proprietor, Ivory Moore, or one of her two partners, Elise DeVries and Alexander Lavoie."
"Alexandre Lavoie is a rumored assassin and spy," says Bowen. "And, aside from being a partner in Chegarre & Associates, he is the owner of the most notorious and exclusive gaming hell in London. Where everything has its price. There is very little he hasn't seen or heard. He's a little cynical, a lot jaded. I wanted to give him a heroine that would knock his proverbial socks off. And who better than Lady Angelique Archer…she's concealed her identity while she covertly controls Lavoie's vingt-et-un tables, counting cards and pocketing the substantial winnings."
Bowen says research is one of her favorite parts of writing. "It's like an eclectic and fascinating course on history, peppered with random lessons in medicine, sport, biology, law, crime, travel, language, and agriculture, just to name a few."
"I learned about the different systems people use to count cards when playing twenty-one," says Bowen. "I read about criminal law as it pertained to titled peers and the prison system. I revisited my old school lessons on the War of 1812, and dug into individual battles and the uniforms and weapons used in each. I unearthed blueprints of the Tower of London and read old chancery records. I read up on the oldest schools of England and the individuals who attended each. And the best part of all of that is aside from the information that you actually use in your story, there are countless, captivating tidbits of history that emerge to inspire something else entirely."
Bowen has written two Regency-era romance series and is working on a third series. Her The Lord of Worth series, won Publishers Weekly Best Book of 2015 and Amazon Books Best Romance of the Year Selection 2016. Duke of My Heart won Publishers Weekly Best Book of 2016 and Kobo Books Best of the Year in Romance 2016.
Alex Logan, Forever, Grand Central, Hachette, is Bowen's editor. Bowen's agent introduced her to her editor and arranged the sale of her first book to Forever. "My editor likes to read the first draft on paper where she can get a sense of pacing and make notes directly on the pages," says Bowen. "Every round of edits after that, including copy edits, is done electronically via email."
Stefanie Lieberman at Janklow & Nesbit Associates is Bowen's agent.
"I found my agent through a literary contest," says Bowen. "I had submitted an entry in the Colorado Romance Writers Heart of the Rockies Contest. The final judge was another agent who forwarded my entry on to Stefanie. She thought Stefanie and I would be a good fit."
Bowen has finished the first book in her third Regency-era romance series and is starting the second. It doesn't yet have a title.
Bowen lives in Winnipeg, Manitoba, Canada, where she was born.
Between the Devil and the Duke By Kelly Bowen. Kindle Version, File Size: 5050 KB, Print Length: 353 pages, Page Numbers Source ISBN: 1455563412, Publisher: Forever (January 31, 2017), Publication Date: January 31, 2017. Hachette Book Group. Language: English, ASIN: B01FD96IPS $5.