Exclusive interview with author Hannah Dennison; in her latest mystery novel a woman and her mother leave London for country life on a crumbling estate
By Gabrielle Pantera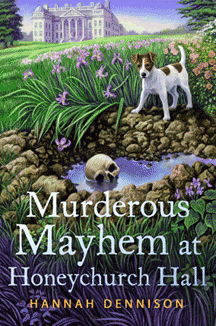 "The theme of reinvention has always intrigued me," says Murderous Mayhem at Honeychurch Hall author Hannah Dennison. "Probably because I reinvented myself when I moved from England to America with my ten-year-old daughter and two cats in tow to start a new life. In the Honeychurch Hall Mysteries, I wanted to explore the relationship between Kat Stanford, a former TV celebrity and antique dealer, leaving her London life behind to move in, albeit reluctantly, with her newly widowed mother on a crumbling country estate miles from the life both of them knew."
Kat Stanford and her mother Iris live in the tiny hamlet of Honeychurch, which is preparing for its annual re-enactment of the Royalist Honeychurches versus the Carew Roundheads on the grounds of the Honeychurch Hall estate. In a shocking discovery, the remains of a woman thought to have vanished during the English Civil War are found. Thus the game is afoot.
When Iris's manuscript goes missing Kat tracks it back to their own post office, run by local busybody Muriel Jarvis ….who has her own problems. She may be evicted by Lord Rupert Honeychurch from her cottage – the family home for generations. Kat needs to figure out where the missing manuscript is, who's blackmailing who, and a murder.
After her father passed away in 2002, Dennison's mother had bought the wing of an old country house near Totnes in Devon. "On three floors and with lots of stairs, a long drive and in the middle of nowhere, it was hugely impractical for someone who had just turned 73," says Dennison. "My mother completely reinvented her life and now at 88, is in robust health, working as a docent at Greenway, Agatha Christie's summer home, and has never been happier."
Having invented the town of Honeychurch, Dennison was surprised to discover in her research that it's a real place, a tiny hamlet in Devon. "Of course, my mother and I had to go and find it. Tucked in a remote part of north Devon, there are just five farms and a little church called St. Mary's. Honeychurch is mentioned in the Domesday Book of 1086. In the 11th century, the population of Honeychurch was around thirty. And one thousand years later, it's around the same number. The last time the church was remodeled was in the 15th century. There is no electricity or heating. There are still three medieval bells in their original cage and a complete set of late medieval benches."
Dennison also writes The Vicky Hill Mysteries series, based on her experience as a young obituary reporter on a weekly newspaper in a small market town in Devon. There are five books in the series: A Vicky Hill Exclusive, Scoop, Expose, Thieves and Accused. Each book highlights a peculiar British custom from hedge jumping, snail racing to Morris dancing and worm charming.
Dennison currently has a proposal out for a fifth Honeychurch Hall, a sixth Vicky Hill and a new series featuring two sisters. All are set in the West Country.
Dennison lives in Portland, Oregon, with her husband and two Vizsla dogs. She was born in Old Basing, Hampshire, near the ruins of Old Basing House, a location of one of the decisive battles in the English Civil War. She is an avid supporter of the Society for the Protection of Ancient Buildings, the Historic Houses Association, and the National Trust.
Murderous Mayhem at Honeychurch Hall: A Honeychurch Hall Mystery (book 4) by Hannah Dennison. Hardcover: 320 pages, Publisher: Minotaur Books (May 2, 2017), Language: English. ISBN: 9781250065490 $25.99