Meet Damien Shields from Dublin Ireland who moved to LA almost 9 years ago to pursue a new life in LA.
Was there a particular reason you chose LA?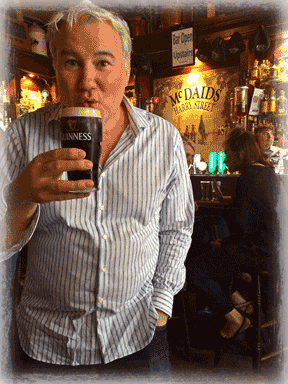 Yes, I had been visiting here since 1994, to visit my two sisters and older brother who left in the late 1980s when the mass exodus was happening in Ireland. They settled here in the Valley and have been here ever since. So the expat community that they found and made their family away from home, became mine by default as the years passed. When I decided to come here in 2008, I just wanted to see how the other half lived, and I was fed up with the rain in Ireland- it wasn't helping my golf game at all!
Being that I'm from Ireland, I am so happy to be accepted as part of the Brits in LA community. I have many relatives in the UK and worked for many UK companies in my time, so I know a thing or two about the British folk….and I know we all share a similar sense of humor, considering that Only Fools And Horses' is probably the best sitcom ever produced and it was written by an Irishman, John Sullivan. I prefer rugby over Soccer when it comes to our international sporting events.
What do you miss most from home?
My parents are still alive and in their mid 80s, so not seeing them on a daily basis is hard. And my core friends from my school days who have become my life friends. I miss all the conversations I had with them over a few pints of good Guinness. The traditional breakfast is another one I miss just because it's so great. And roaming around the streets of Dublin late at night, wandering from bar to bar, knowing you can meet anyone and everyone you know without planning it. That sense of community is really the big thing I miss.
What was your first impression of LA and has it changed since? If so why?
The smell of warm air was always the first thing I remember about landing in LAX and coming out into the thick hot air during the summer. The palm trees everywhere, the fast food options on every corner, the billboards at every junction. It was so different from Dublin and it was exciting to be able to buy 20 Budweiser in the supermarket for less than $20! The six lanes of the 405, so much traffic. I loved going out to eat as I found it so cheap after changing money from punts to dollars! The constant sunshine and the days seemed to last for weeks while first here. The novelty of the good weather has never waned for me, I still never take a jacket anywhere, no matter how cold everyone thinks it is. The main change for me is that it doesn't feel new to me anymore which I used to love that feeling of waking up and saying " I live in LA"! I suppose familiarity has set in and life here is now moving as fast as it did back in Ireland before I left.
What do you find the biggest difference is living here versus Dublin?
LA is so much more diverse in every way compared to Dublin, and its harder to connect with people here in a simple way. I could walk around Dublin, and if I could not get a taxi, I could walk home if I had to. The local fish & chip shop, doner kebabs, chicken curry, Cadburys chocolate. Among other things. I know LA is a melting pot and I have gotten used to the way of life here, it's just I think I had so much more of a social life at home that I never replaced here. For me it's all about the conversations I had while enjoying time with famliy and friends!
Do you have a hidden gem in LA that you want to share with us?
Well, up till last December my hidden gem would have been either the Sagebrush Cantina for a Saturday afternoon session with live music all day and night, then close out with Karaoke in Paolis on Ventura – next to the Pickwick! Another great watering hole. But recently my wife and I opened an Italian Restaurant in Woodland HIlls called Tuccio's. Tuccio is her family name as she is Italian, and me being Irish we thought we could bring the best of both our worlds to a family owned – non corporate- establishment here in the valley- providing a warm and friendly place where people could come, sit and relax, have dinner with friends, catch some live music, and feel welcome and appreciated. While having a great menu of authentic dishes to choose from and a bar stocked with strong premium brands of beers/ wines and liquors. So if you're looking for a new gem. We would like to think we can be that place.
What would you suggest to others who are thinking about making the move here?
Come here with a plan and a time frame to achieve that plan. Respect the differences you find here, and try add to the community by being open/ honest and friendly. People react to authenticity everywhere. Call in on your neighbours and be open to making a real connection with people you meet.
Lots of our members join our group Brits in LA seeking out words of wisdom – what is the best piece of advice you've been given? 
"Today is yesterday's tomorrow". Don't wait on making your move or trying new things, today is the day for that- not tomorrow. Also: WB Yeats said once. 'there are no strangers here, only friends we have not yet met". I have always thought this was something a lot of people do not get. Yet it's the truth.