By Franz Amussen
IF YOU HAVEN'T yet twigged to one of the best British comedies on television, it's time you checked out Catastrophe on Amazon Prime.
The show, which stars Sharon Horgan and Rob Delaney as an Irish expat and her American husband negotiating marriage, babies and careers in contemporary London, debuted in 2015 and season three has recently launched on the popular streaming service.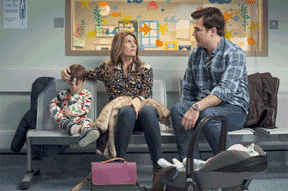 The pair meet in London in Season One while ad man Rob is taking an overseas business trip to from his American base. A passionate few weeks follow, and shortly after Sharon discovers she is pregnant. In part because of abandonment issues from his own father, Rob decides to 'do the right thing', moves to London and the pair marry. What follow is three seasons of hilarity as Rob and Sharon adjust to their new lives, their new partners, and in short order, parenthood. The show is hilariously funny, shockingly profane and often achingly true, and benefits hugely from a talented supporting class with a truckload of issues of their own, including the late Carrie Fisher as Rob's mother, and Ashley Jensen and Mark Bonnar as Rob and Sharon's highly dysfunctional best friends. The show feels just like real life, only much funnier. The only downside is that the seasons are so short, at just six apiece. A fourth series of the show is scheduled for 2018.
Catastrophe is great TV. Don't miss it.