ONE OF THE MOST venerable British institutions in Southern California – and one of the most deserving of your support – the British Home in Sierra Madre, will host its annual June Faire fundraiser on Saturday, June 3rd from 10am-2.30pm. The home is located at 647 Manzanita Avenue. Admission is free.
This festive, family-friendly event celebrating "All Things British " is held annually at the home's graceful non-profit independent and assisted living facility for seniors.
The Faire is opened with a formal Presentation of the Colors accompanied by a professional bagpiper, followed by the American and British national anthems.
Colorful booths situated on the beautiful 2½ acre campus will offer arts and crafts, books, tools, collectibles, and boutiques featuring personal accessories and decorative and household items for sale.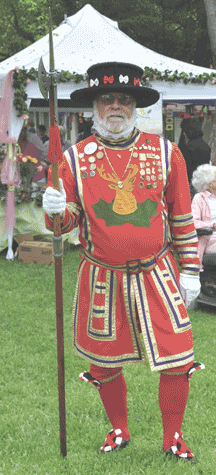 All proceeds are donated and help to support the British Home.
Refreshments include Ploughman's lunches, English bangers on a bun, home-baked breads and pastries, strawberries and ice cream, and children's fare. An outdoor Victorian Tea Room will be open for faire-goers to enjoy a "cuppa" and delicious English sweets and savories.
A Children's Area on the south lawn will feature a bouncy house and face-painting by the Home's resident artist.
Live entertainment will include adults and youngsters performing traditional Morris, Scottish and Irish dances. A strolling British Bobby and Beefeater will be available to have their pictures taken with you.
According one local news report, the origins of The British Home –a not-for-profit retirement home for elderly British immigrants residing in the United States – date back to a leading philanthropic organization of the time, the Daughters of the British Empire, which continues to do charitable work to this day, but the current facility was not formally opened until 1931, with Sir John Adams, the British Consul-General at the time, doing the honors. The home's vision of a place where elderly people could be cared for in a warm and kind environment continues to this day. The British Home later opened its doors to welcome older adults of all nationalities, and today enjoys a diverse mix of residents from many different backgrounds in many cities across the United States.
Situated within extensive landscaped gardens with striking mountain views, the home consists of five separate cottages, each containing several individual units with private bedroom and bathroom. Each cottage contains beautiful and comfortable furnishings creating a pleasing ambiance; a spacious living room and full-sized kitchen is shared by the cottage residents. The relaxed and inviting atmosphere offered by this arrangement, encourages occupants to socialize and interact without giving up their privacy and independence. In addition, the central facility, Armstrong Hall, provides an elegant communal dining and lounge area to accommodate all the residents for main meals and group activities.
The British Home is located in a residential area, with parking along Ramona and Manzanita Avenues, as well as on the side streets. For more information, please call (626) 355-7240 or visit their website: www.britishhome-ca.us.