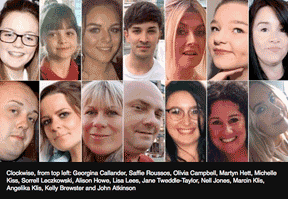 We have so many Brits in LA members from Manchester that my heart fell into my stomach and the tears started rolling when I heard of the fatal and evil attack at the Ariana Grande concert this week. And when the footage started to emerge of kids and parents running for their lives, I just lost it.
I write this from New York, which, as we know, dealt with one of the most heinous crimes of this century. When talking with residents about the horrific attack, people started recalling that day to me.
I met up with John Pirkis, (former Brit in LA member who now runs Brits in NY for us) at the BAFTA announcement for the Student Awards on Monday evening, where he was recounting the story of the maniac who mowed down civilians in Times Square just a week before. He unfortunately witnessed the whole incident and gave a statement to the police. Again as he told me, my heart sank a little more.
I began to think about all of life's atrocities, all over the world and how we as a society deal with it.
Must we live a life of fear? Must we stay in our homes, eternally – until the big bad wolf comes knocking? I do not mean to be trite but it is a a genuine question. That anxiety makes me not want to leave the comforts of my home, for fear of attack. Is nowhere safe? When monthly we hear about an attack on a mall, or a cinema, or a bus, or a bridge…and now a concert packed with children? This latest attack has shaken the world because of innocence lost. It's tragic beyond words. And I'm sure I speak on behalf of the whole of the British community in expressing our heartfelt condolences to the victims and their families at this very sad time. I had other stuff to talk about this week – specifically about a couple of fabulous get-togethers we had, but it feels disrespectful to mention them in the light of recent events.
I will however say this…though it sometimes seems our humanity is eroding, the best of us is also revealed in dark times. When I see how many of us rallied around Jim Tavare after his terrible recent accident and more recently when BiLA co-founder Darren Darnborough, who celebrated a birthday this week, urged his many friends on social media to take the money with which they would have bought him a drink and instead send it to the fundraising efforts for the Manchester victims. It might only seem like a small gesture but if such efforts can spread virally then we can get stronger and more united in the face of evil. I heard from member Alan Nesbit, who was home in Manchester at the time, who told me that if his kids would have been with him, they definitely would have gone that night – and he went on to retell how the Manchester civic spirit rose and people took to the streets for the vigil and bonded and crowd and hugged one another and vowed to stay strong for the victims and their families.
So in closing, if we live our lives in fear. The terrorists have won. So I encourage you (as well as myself) to live every day as if it might be your last. Hug a stranger. Tell those closest to you how much they mean to you. Commit random acts of kindness. Help people who need it. DO WHAT YOU CAN. Inspire, mentor, volunteer. Be the best person you can be, BE KIND…for it's the only way we can LIVE.
Lots of love to you all.
Craig