Hilton Anaheim will host a 50th Anniversary of Sgt. Pepper's Lonely Hearts Club Band with a LIVE broadcast of KLOS 95.5 FM's "Breakfast with The Beatles," the longest running Beatles radio program in the U.S., featuring host Chris Carter, this Sunday, May 28th from 8.30am.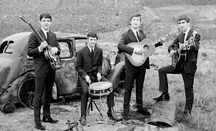 Co-sponsored by Visit Anaheim, "Breakfast with The Beatles" live broadcast will take place in Hilton Anaheim's MIX Lounge in the hotel's lobby with a traditional English breakfast and other brunch favorites served from 8:30 a.m. to noon. Brunch is $45 for adults and $25 for kids under 12. Complimentary self-parking is available to all brunch guests.
The theme of the brunch will be "All You Need is Love on Both Sides of the Atlantic" to celebrate the 50th anniversary of the universally loved song. Simultaneously, the radio show will be streamed LIVE at Hilton Liverpool for "Dinner with the Beatles." Both Hilton Anaheim and Hilton Liverpool will be connected via Live Stream to bring the UK and U.S. together.
Proceeds from the event will benefit the Anaheim Elementary School Music Program, which works to ensure all students have the opportunity to receive genuine, quality music instruction within their school day.
To make a brunch reservation, please call (714) 740-4442 or visit opentable.com/mix-restaurant- and-lounge