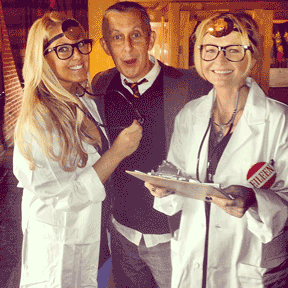 I am delighted to officially welcome back our old friends at The Cat & Fiddle pub. They have officially reopened the doors to their new location at 742 N. Highland Avenue in Hollywood. We have held some brilliant events with the Cat over the years, including the occasional pub crawl, the 50th anniversary of Dr Who and one of my all time favorites "Tiaras & Pyjamas', which was an all night gathering to watch the live broadcast of the Royal wedding of the current Duke & Duchess of Cambridge.
I wonder if we may be planning a similar party soon for Prince Harry…
Visit them on Facebook (www.facebook.com/TheCatandFiddle) if you want to join them in celebrating the Grand Reopening from June 5th – June 11th.
Instead of a parade, this year's L.A. Pride will feature a protest march through Los Angeles and West Hollywood. The organizers of the annual event are teaming up with the LGBT Resist March, which is happening nationally June 11. Visit www.resistmarch.org/ for full details.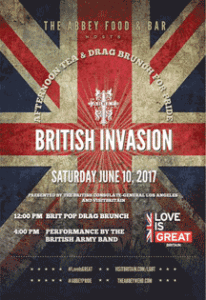 However, the British Consulate/Visit Britain are throwing an afternoon tea party to mark LA Pride at WeHo's The Abbey on June 10th, and we are all invited! 'The British Invasion' starts at 2pm and the British Army Band perform at 4pm – this event is open to the public – not just Brits! Feel free to drop us a line if you have any questions or a bit nervous about coming alone – BritsinLA@gmail.com will reach both Craig and me. Great opportunity to get all that Union Jack clobber out – we do hope to see lots of you there!
Lastly, Goldenvoice have given us a pair of tickets to see British singer Alison Moyet at the Fonda in September – if you would like to win them email us with your name on your photo ID to info@britsin.la – winner will be chosen at random on June 6th at noon.
Cheers!
Eileen