The Cat & Fiddle reopens in new location after three year hiatus
THERE WAS some very welcome news for the local expat community this week with the re-opening of the Cat & Fiddle pub in Hollywood after a three-year absence.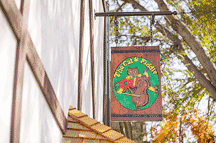 The revamped eaterie and watering hole held a soft-opening on Memorial Day Monday at its new location on Highland Avenue just north of Melrose in the former space of the Mud Hen Tavern.
The original Cat & Fiddle was opened in 1984 on Laurel Canyon by the husband and wife team of Kim and Paula Gardner and found immediate success with their familiar recipe of British beers, tasty pub grub and friendly banter, – the latter mainly coming from Kim, a renowned rock musician and born performer. The pub's immediate success led to them expanding to larger premises on Sunset Boulevard just west of Cahuenga, where the place enjoyed an almost thirty-year run as the best pub in Hollywood, a favored watering hole of expat Brits, local residents and celebrity rockers alike. In the far-off days when the British Weekly offices were located just around the corner, the place became an informal canteen for the editorial staff.
Sadly the place closed its doors in 2004 to make way for New York chef April Bloomfield and restaurateur Ken Friedman, according to leading foodie website eaterla.com. In an ironic twist, its former space remains empty to this day.
The latest incarnation of the Cat is overseen by Ashlee and Camille Gardner, Paula's daughters. Kim passed away in 2001. From the sneak peek we managed recently, the place boasts a Tudor-style facade, a hand-crafted pub bar, and, in a nod to the Sunset Boulevard location's much-loved patio, a secluded outdoor area for a quiet pint and a natter.
The Cat & Fiddle is offering a variety of opening week specials including pie and pint lunch deals, happy hour from 5-7pm and weekend brunch starting at 10am. And in keeping with the pub's musical heritage, there will be live music on the weekends. For more details visit their Facebook page.
  The Cat & Fiddle, 742 N. Highland Ave., Los Angeles.