Book: Manderley Forever
Exclusive interview with author Tatiana de Rosnay discussing her new biography of novelist Daphne du Maurier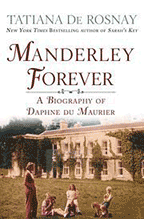 "Daphne du Maurier's life reads like a novel," says Manderley Forever author Tatiana de Rosnay. "I went to Cornwall, where she lived and I met her family. I had never been to Cornwall and was blown over by it. I was able to understand why she was so passionate about it and why she was so inspired by it. Cornwall appears in nearly all her novels."
English author and playwright Daphne du Maurier wrote moody stories of romance in the paranormal. Her short story The Birds was the basis of the Alfred Hitchcock romance/horror film about a community attacked by flocks of birds.
Born in London, Daphne du Maurier was the granddaughter of author and Punch cartoonist George du Maurier, who created the character of Svengali in the novel Trilby. Her parents were actor-manager Sir Gerald du Maurier and actress Muriel Beaumont. Daphne du Maurier was one of five women recognized in a set of British Women of Achievement stamps issued in 1996.
Du Maurier's most successful novel Rebecca, became an immediate hit upon publication in 1938, selling over three million copies. The book has never gone out of print. It's been adapted for stage and screen many times…including as a 1940 film directed by Alfred Hitchcock, a 1979 miniseries directed by Simon Langton, a 1997 miniseries directed by Jim O'Brien, and even a 1952 Filipino film starring Tessie Agana and Van De Leon.
Alfred Hitchcocks' The Birds, while loosely based on the 1952 story by Daphne du Maurier, was also inspired by real-life bird attacks in 1961. Residents of Capitola, California, experienced seabirds slamming into their houses, possibly due to shellfish poisoning. Hitchcock's film presents a series of sudden, unexplained violent bird attacks on people. The film stars Rod Taylor and Tippi Hedren, with Jessica Tandy, Suzanne Pleshette and Veronica Cartwright.
As a child de Rosnay read and reread Rebecca. Rosnay explores her idol's life from the age of seven, through her teens, marriage and old age. This book is a celebration of the life of Du Maurier, who passed away in 1989.
"Writing books is an adventure that is different each time," says de Rosnay. "This book enabled me to meet the family of my favorite writer. It has been a wonderful experience, an unforgettable one. She is my favorite writer since I was ten years old. I started writing because of her. A publisher named Gerard de Cortanze noticed that I always mentioned Daphné du Maurier during my interviews. He suggested that I write her biography."
For her research, de Rosnay read all of Maurier's books and all the biographies written about her and her family. "I spoke to her children and grandchildren and to people who knew her. I read articles in the French and British press. I found them in bookstores, online, in libraries and in archives. I was helped by people who know her work well."
Since 1992, de Rosnay has published fifteen books. She writes in English and French. She's won awards for Sarah's Key and The House I loved. Four of her books have become movies. In the U.S., the most famous one is Sarah's Key with Kristin Scott-Thomas.
Tatiana de Rosnay was born in Neuilly, near Paris, and is now based in the French capital.
Tatiana de Rosnay is currently writing a novel in English that takes place in Paris about a Franco-American family. She can be found online at wwwtatianaderosnay.com or Twitter @tatianaderosnay.
Manderley Forever: A Biography of Daphne du Maurier by Tatiana de Rosnay (Author), Sam Taylor (Translator). Hardcover: 352 pages, Publisher: St. Martin's Press (April 18, 2017), Language: English. ISBN-13: 978-1250099136 $27.99